On this Valentines Day, give your partner a special kiss and model it on some of the world's famous kisses.
Here are some of our favourites.
On Screen Kisses That Didn't happen
What more is there to say about Scarlett and Rhett's almost-kiss in "Gone with the Wind". "You need kissing badly" Clark Gable tells Vivien Leigh.
The kiss that was cut from the film because it was too risqué. Deborah Kerr tells Burt Lancaster in this scene: "I never knew it could be like this. Nobody ever kissed me the way you do."
Historic Kisses
This photo of the End of Word War II being celebrated emphatically by a soldier and a nurse travelled the world.
The Obama's kissing during his inauguration.
The Socialist "Fraternal Kiss" between the leader of the Soviet Union, Leonid Brezhnev, and the leader of East Germany, Erich Honeker.
First Royal Kisses
In 1981, the newlywed Charles and Diana, started the tradition of the balcony kiss. Sadly it turned sour in the end.
Will and Kate's kiss captivated the word: Fairy tales do exit, even if the flower girl might not be impressed.
Artistic Kisses
Gustav Klimt famously depicted this loving kiss around 1908 of embracing couple surrounded by regal gold robes, … most sensual.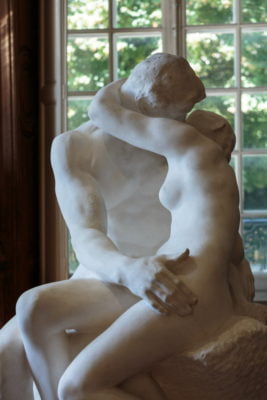 In 1182 Auguste Rodin depicts this embrace between an Italian noblewoman and her husband's younger brother. Sadly, both were killed by the husband.
The Steamy Kiss
These photos may not be famous but we all know the 'steamy kiss'.