Patchouli Perfume
In this article you will discover the following about Patchouli Perfume:
Olfactory Groups, Fragrance Descriptions & Triangles
What Patchouli Oil smells like
History of Patchouli
Cultivation & Extraction
Iconic Patchouli Perfumes
Other uses of Patchouli
Fern / Fougère
Frequently referred to as Fougère, or translated as "fern-like". In modern perfumery, this is one of the main olfactive families.
Patchouli is a prominent ingredient in the base note of many classical and contemporary Fougère notes.
The name is derives from the perfume 'Fougère Royale' (Houbigant). We have a full page dedicated to Fougere, its history, evolution and key perfumes.
Bergamot, Basil & Patchouli
This woody and aromatic accord opens with Bergamot, Lime, Green Leaves and spicy Basil. The heart is fresh with Lily, Freesia, Violet Leaf, Rose and Geranium. The note rests on a beautifully rich woody base of Patchouli Oil, Vetiver, Sandalwood, Cedar and Amber.
Grapefruit, Pepper & Black Cedar
A rich, woody and spicy fragrance where the zest of Grapefruit & Bergamot infuse the opening with freshness. The sensual heart of Masculine Leather is enhanced by the rich spicy elements of Black Pepper and Nutmeg. The base is intense and woody with Black Cedar, Patchouli, Tonka Bean and Moss.
Oriental Fragrances
Sophisticated, sensual perfumes created with heady substances such as musk, vanilla, exotic woods (e.g. Patchouli), spices, tropical flowers and other rich ingredients, such as amber, tobacco, spices, animal notes and tree resins.
These wonderfully warm notes may have facets of citrus, fruit, green and other notes to freshen them up.
Spiced Coffee & Oaked Vanilla
This warm, Oriental Spicy Fragrance opens with the top notes of Pink Pepper, Orange Blossom and Crisp Pear. The Heart of the Fragrance is a modern blend of rich & dark Coffee with the elegance of Jasmin. The elegant finale is a sophisticated base of Vanilla aged in Oak, Patchouli and Cedar.
Chypre
The notes in this group are typically based around an accord of oak moss, ciste-labdanum, Patchouli and bergamot. Other woody, mossy and floral notes may be added and even replace some of the element. The richness of these fragrances mixes beautifully with citrussy, lavender, leathery or fruity notes.
Chypre accords are rich and long-lasting in character. An early and classic example of this family is 'Chypre' by Coty (1917). We have a dedicated page about the history & evolution of Chypre perfumes with fragrance descriptions.
Mandarin Blossom & Sandalwood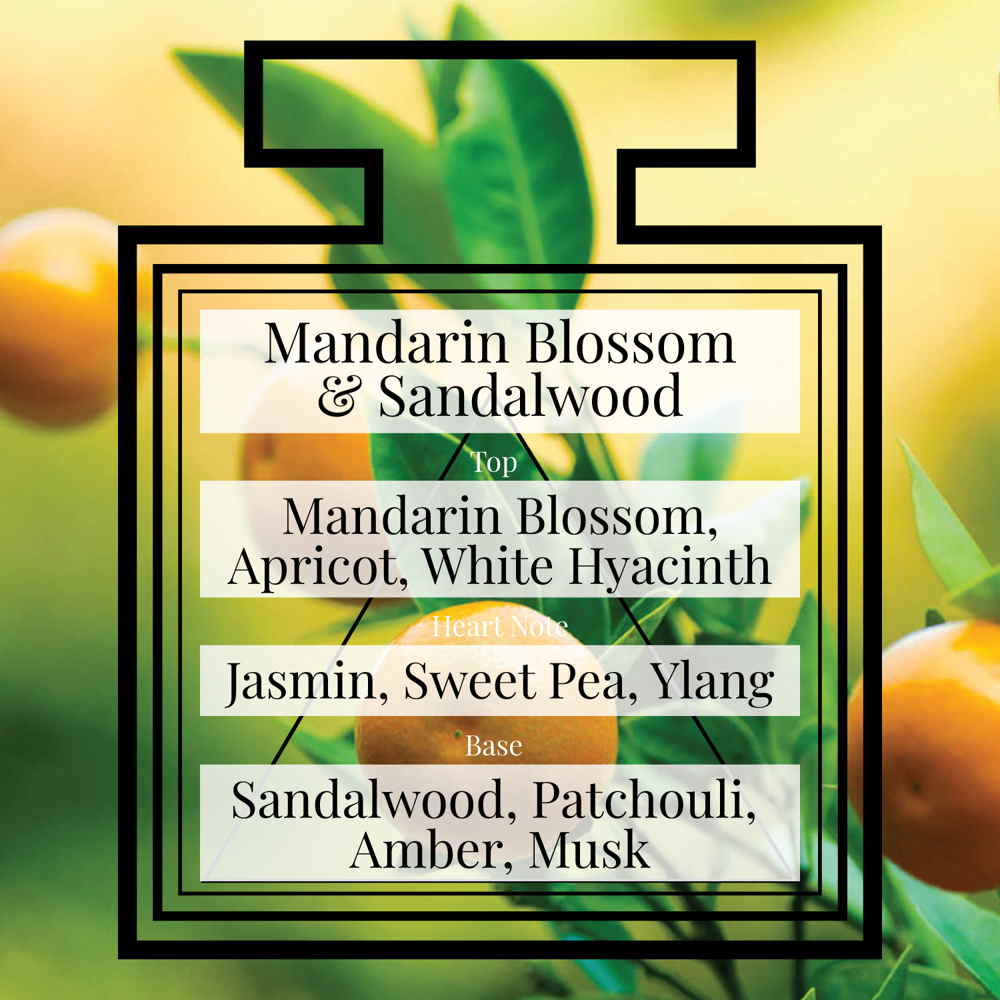 An elegantly, feminine floral Chypre accord opening with the freshness of Mandarin Blossom, Apricot and White Hyacinth as Top notes. It's romantic heart reveals a floral bouquet of Sweet Pea, Jasmin and Ylang Ylang, while the fond of Sandalwood, Patchouli, Amber and Musk create a magnetic trail.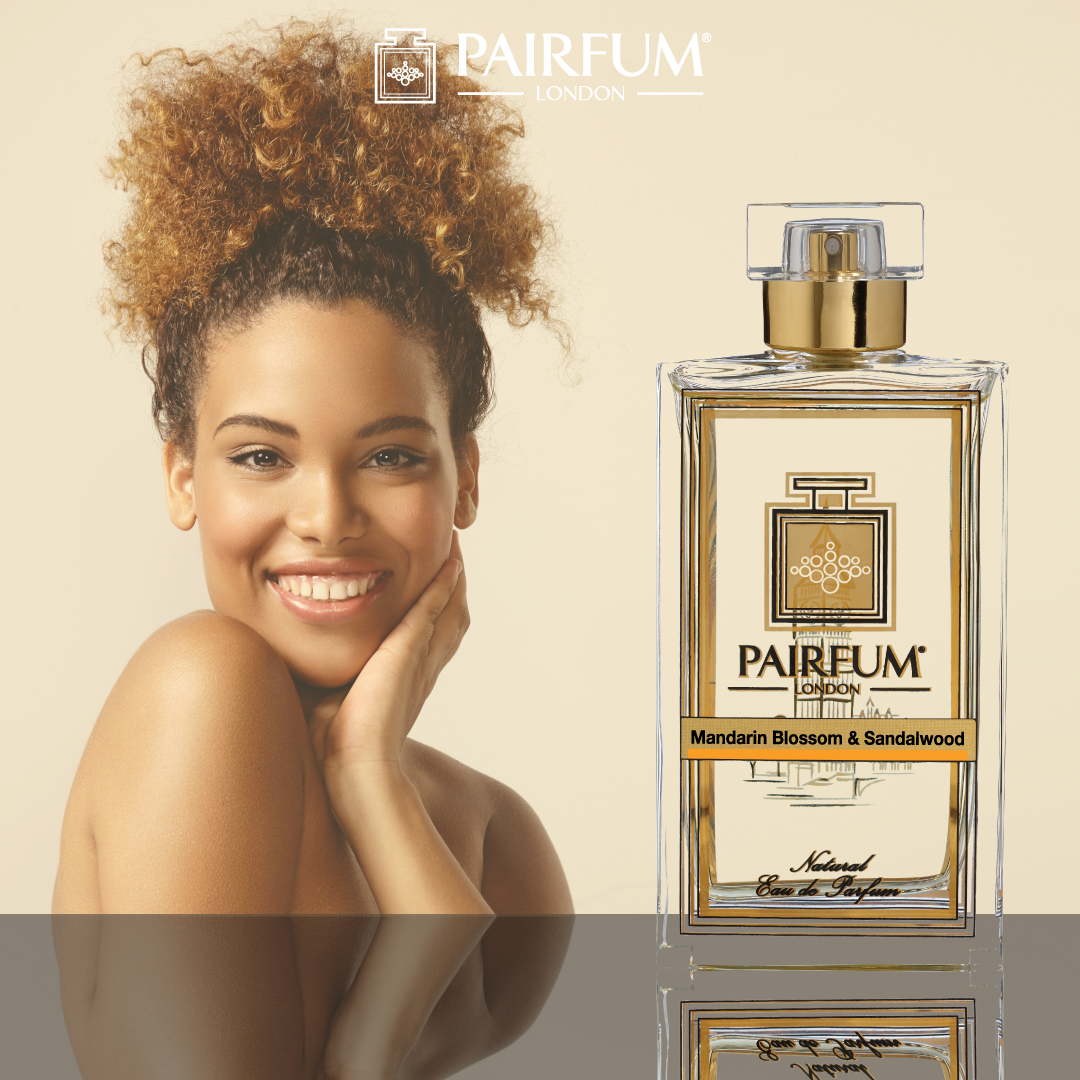 Fruity
This olfactive group has no limits: beautiful, fruity fragrances with berries (strawberries, raspberries, loganberries, blueberries, …), sweet juicy fruit (peaches, nectarines, mango, papaya, …), tropical fruit (coconut, pineapple,… ), Kiwi, melons, banana, … there are always new enticing fruit varieties to try.
It is quite common that Skin Care and Toiletry Products are the innovators to introduce a new fruit into this category rather than Fine Fragrance (Eau de Parfum, Eau de Toilette, …).
The Fragrance Descriptions show that although fruit notes in the top dominate the accords, it is typically the heart and base notes consisting of non-fruit ingredients (e.g. Patchouli) that ensure these perfumes become delectable delicacies to wear.
Black Cherry & Oolong Tea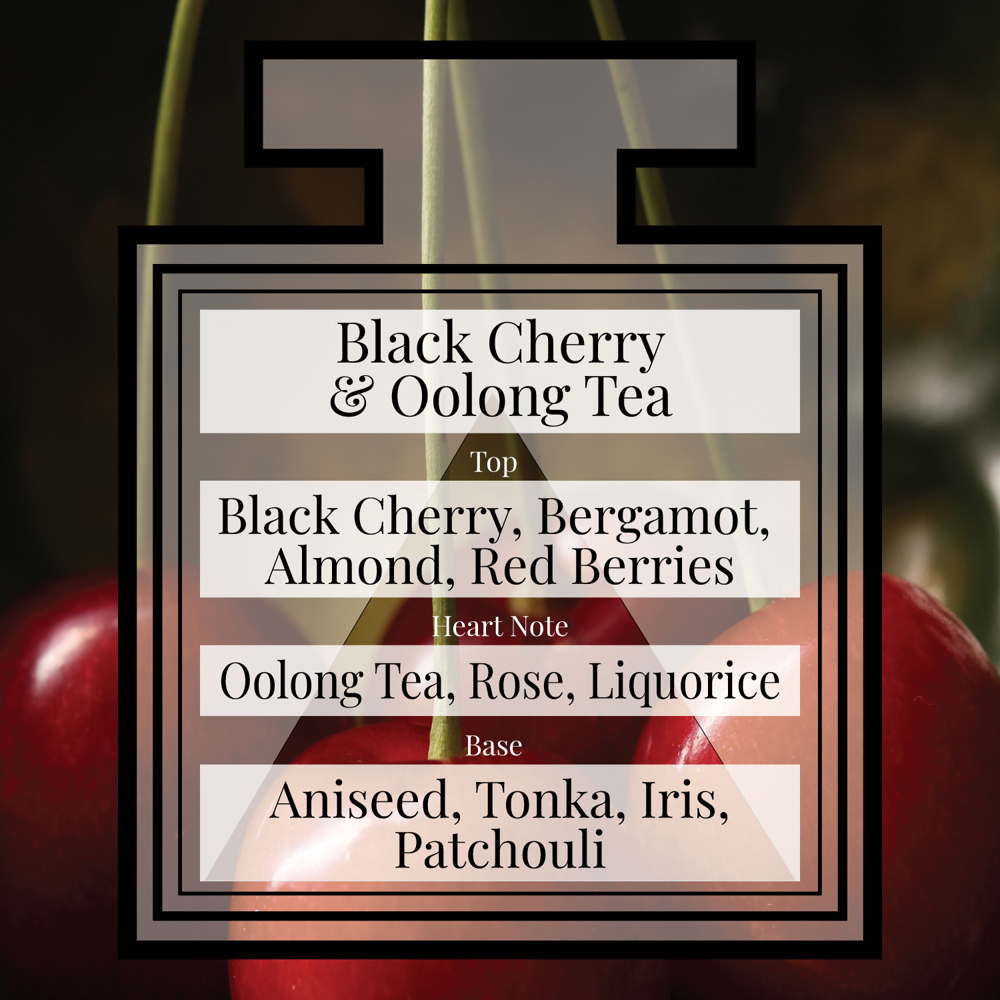 This fragrance opens with the sparkling interplay of the aromas of Black Cherry, Bergamot, Red Berries and Nutty Almond. The heart is a most elegant fusion of Oolong Tea, Bulgarian & Turkish Roses and Liquorice. The sensuous base rests on Aniseed, Tonka, Iris and Patchouli Oil.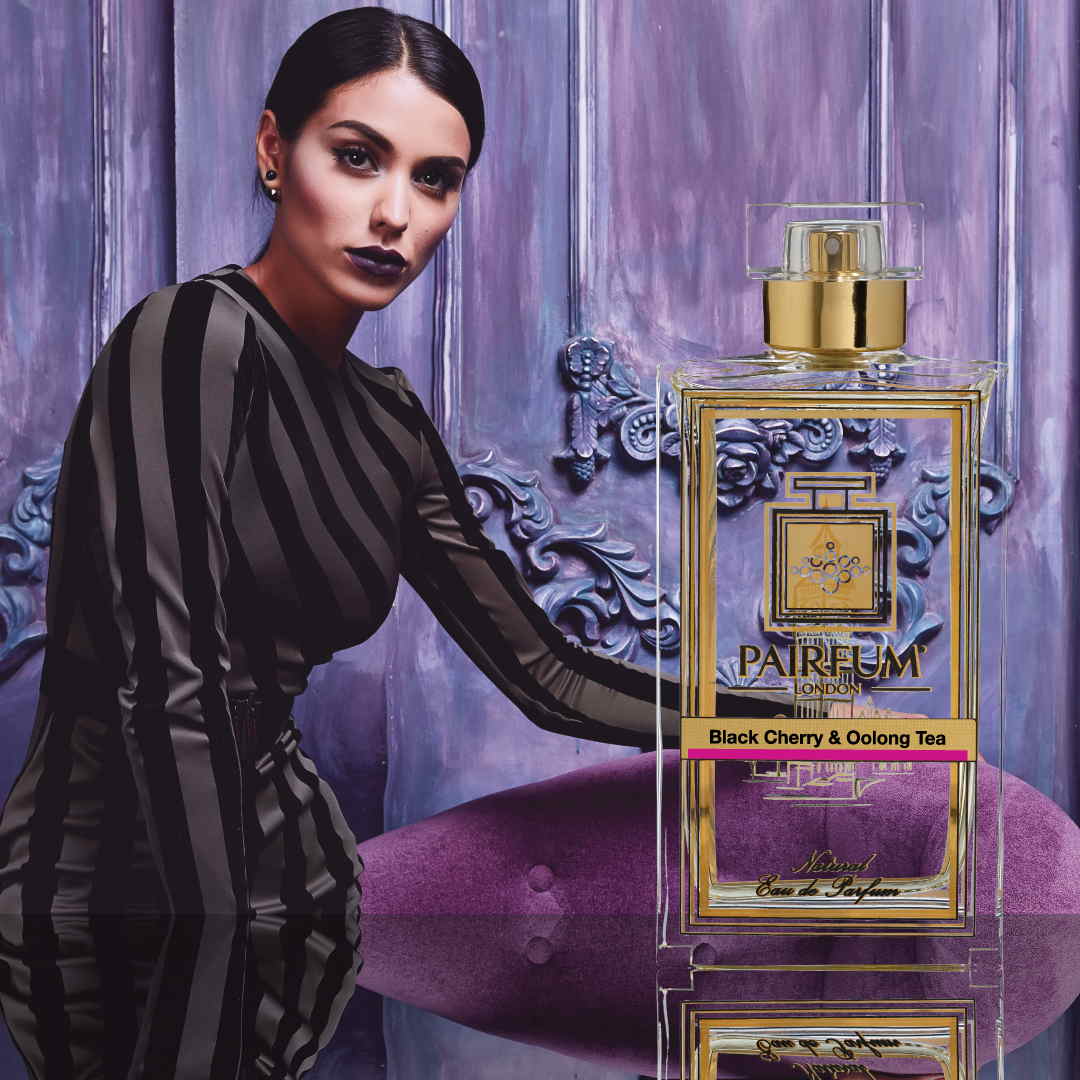 What Does Patchouli Oil Smell Like?
The fragrance of patchouli is woody note, with dark earthy and sweet facettes and some musky tones. Patchouli is a key ingredient in both traditional and modern perfumery, found in male, female and unisex fragrances. Despite being a woody note, it is the leaves which produce the essential oil of Patchouli.
For centuries, it has been an important ingredient in perfumery, adding depth and complexity to fragrances.
Patchouli is a versatile ingredient that can be used in a wide range of fragrances, from classic to modern, and from feminine to masculine. It is often blended with other ingredients such as rose, sandalwood, vanilla, and musk to create unique and complex scent profiles.
Patchouli is particularly popular in oriental fragrances, which are known for their warm, spicy, and exotic scents. Its earthy and woody notes add depth and richness to these fragrances, while its fixative properties help to prolong their longevity. Patchouli can also be used in woody fragrances, where it can enhance the natural woodiness of ingredients such as cedar and oakmoss.
In recent years, patchouli has also become popular in niche perfumery, where it is often used in unusual and avant-garde fragrances. These fragrances may feature patchouli in unexpected combinations, such as with oud or leather, to create unique and daring scents.
The olfactory groups, fragrance descriptions & triangles above, are a brief introduction to the many aspects and the fascinating experiences each one of our fragrances with patchouli offer.
Which Patchouli Perfume do you choose?
A Fragrant History
Patchouli, also known as Pogostemon cablin, is a perennial herb that belongs to the mint family. Its origin can be traced back to Southeast Asia, particularly in the Philippines, Malaysia, and Indonesia. The plant is cultivated for its essential oil, which is extracted through steam distillation of its dried leaves. Its oil is dark brown or amber in color, with a thick and syrupy texture.
The use of patchouli in perfumery can be traced back to the 19th century, where it was popular among European perfumers. In the 1960s and 1970s, patchouli gained immense popularity as a key ingredient in many fragrances associated with the hippie movement. It was used extensively in perfumes, soaps, and other personal care products.
Today, patchouli remains a popular ingredient in perfumery, used in many different fragrances across various genres, from oriental to woody to chypre.
Cultivation of Patchouli
Patchouli is primarily grown in tropical regions, with Indonesia being the largest producer. Other countries that cultivate patchouli include China, India, Thailand, and the Philippines. The plant thrives in warm and humid conditions and requires well-drained soil.
Patchouli is usually propagated by stem cuttings, which are then planted in the soil. The plant can grow up to three feet tall and produces fragrant, furry leaves that are harvested for their essential oil. The leaves are usually harvested when they are at their peak of maturity, which is around five to six months after planting.
Extraction of Patchouli Essential Oil
The essential oil of patchouli is extracted through steam distillation of its dried leaves. The leaves are first dried and then steam distilled to extract the oil. The oil is then separated from the water and filtered to remove any impurities.
Patchouli essential oil has a distinctive scent that is earthy, woody, and musky. It is also known for its fixative properties, which help to prolong the life of other fragrances it is mixed with.
Iconic Patchouli Perfumes
Patchouli has been featured in many iconic perfumes throughout the years. Here are a few notable examples:
Guerlain's Mitsouko – Mitsouko is a classic chypre fragrance that was first launched in 1919. It features patchouli prominently, along with notes of bergamot, peach, jasmine, and oakmoss.
Chanel's Coco Mademoiselle – Coco Mademoiselle is a modern oriental fragrance that was launched in 2001. It features patchouli prominently, along with notes of orange, jasmine, and vanilla.
Tom Ford's Black Orchid – Black Orchid is a luxurious oriental fragrance that was launched in 2006. It features patchouli prominently, along with notes of black truffle, bergamot, and ylang-ylang.
Thierry Mugler's Angel – Angel is a gourmand fragrance that was launched in 1992. It features patchouli prominently, along with notes of caramel, chocolate, and vanilla.
Which Patchouli Perfume have you tried?
Other Uses
In addition to its use in perfumery, patchouli has also been used in aromatherapy and traditional medicine. It is believed to have a calming and grounding effect on the mind and body, making it a popular choice for relaxation and stress relief.
Patchouli oil has also been used to treat skin conditions such as eczema and acne, as well as to repel insects.
Niche Perfume that Complements You, Naturally!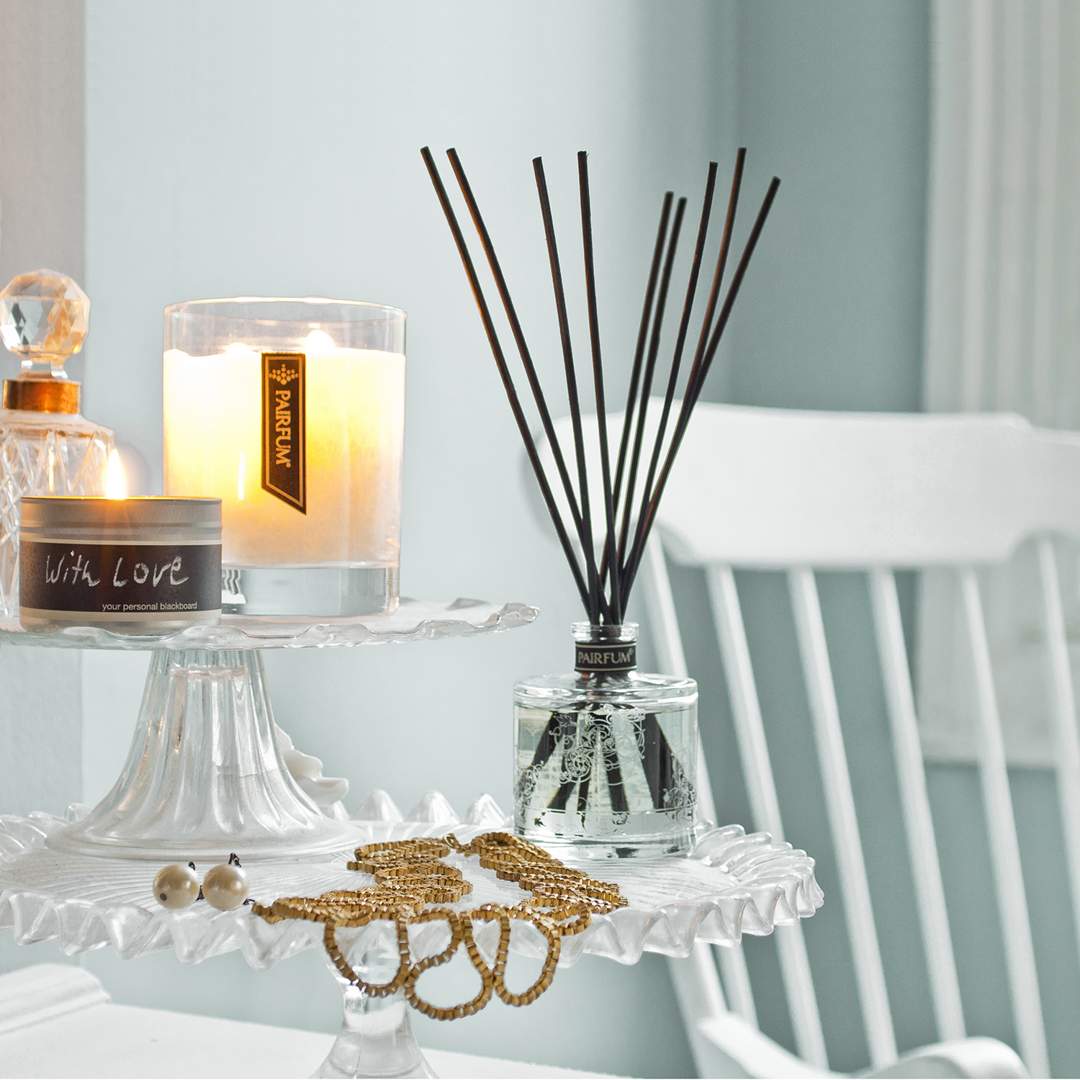 Read in our Blog & News Magazine about: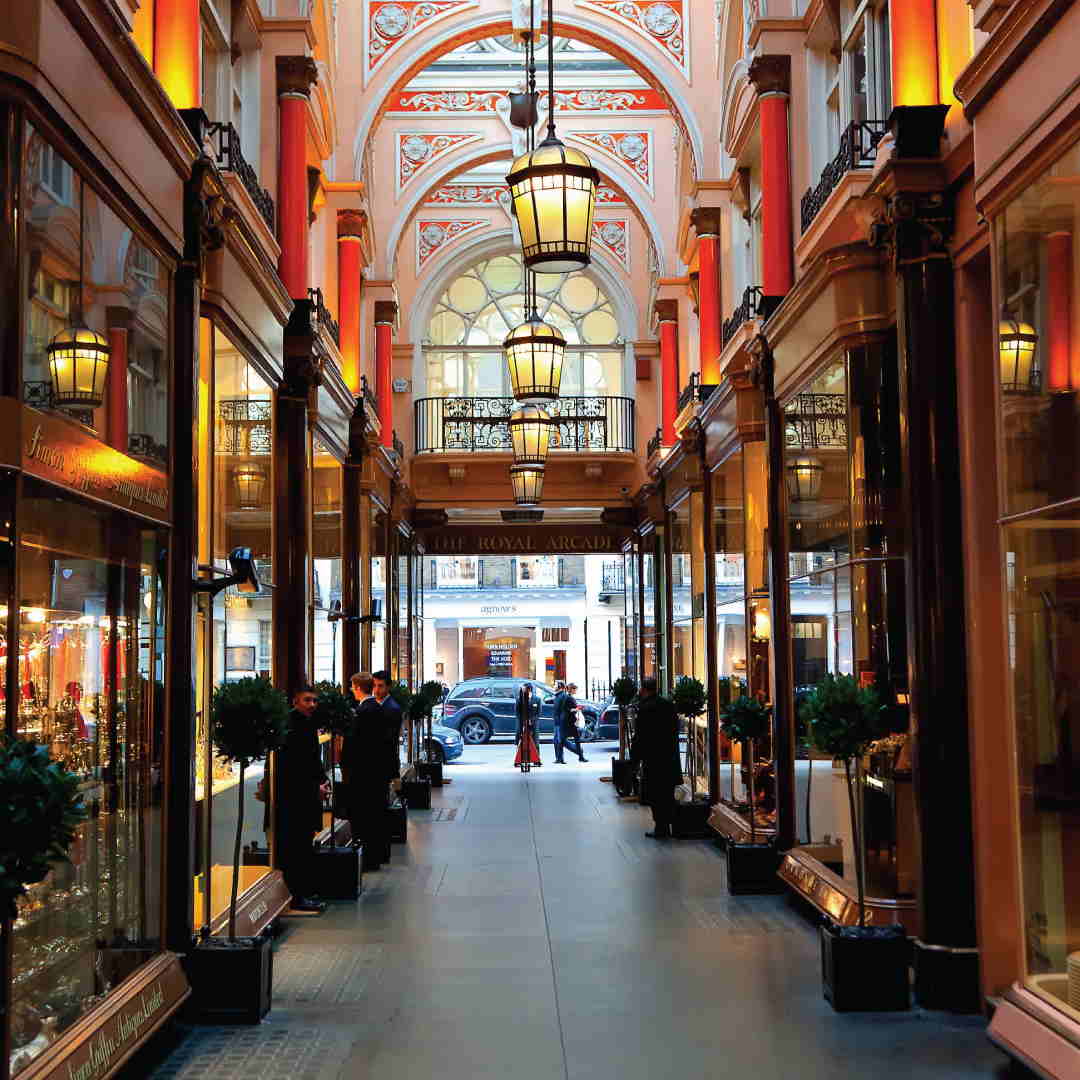 Enjoy shopping in our Online Boutique:
Natural Perfume:
Eau de Parfum "Intense" Sprays, Eau de Toilette Sprays, Eau de Parfum Travel & Purse Sprays, The Perfume Experience Box, …
Natural Home Fragrance:
Luxury Scented Candles, Reed Diffusers and Refill Oils, Perfume Room Sprays, Sleep & Pillow Sprays, Fragrant Botanicals, Wardrobe Sachets, Drawer Liners, …
Organic Bath, Body & Skin Care:
Hand Lotions and Creams, Hand Oil & Washes, Body Lotions, Body Washes and Shower Oils, Foam Bath, Hand Soap, …
Gifts & Giftsets:
Giftboxes, Giftsets, Luxurious Gift Bags & Tissue Paper, Gifts for Men, …