Naturally Luxurious Reed Diffusers & Refill Oils
Enjoy 'Eau de Parfum' Reed Diffusers in Your Home: Long-lasting, Natural, Healthy & Luxurious.
Sensory Accents For Every Room
Pairfum London's luxury reed diffusers will infuse your room with evocative couture perfumes.
Simply open and display, to envelope yourself and your home with a beautiful fragrance. Create a different ambiance in each room of your home.
Transform your Home into a Sensuous Haven of Boutique Luxury.
How Do They Work ?
How Long Do They Last ?
Material Of The Reeds ?
Liquid Changed Colour ?
Any Precautions ?
Detecting Fragrances ?
Differences Between Longevity Of Fragrances ?
Some Fragrances Are Darker ?
Materials Used ?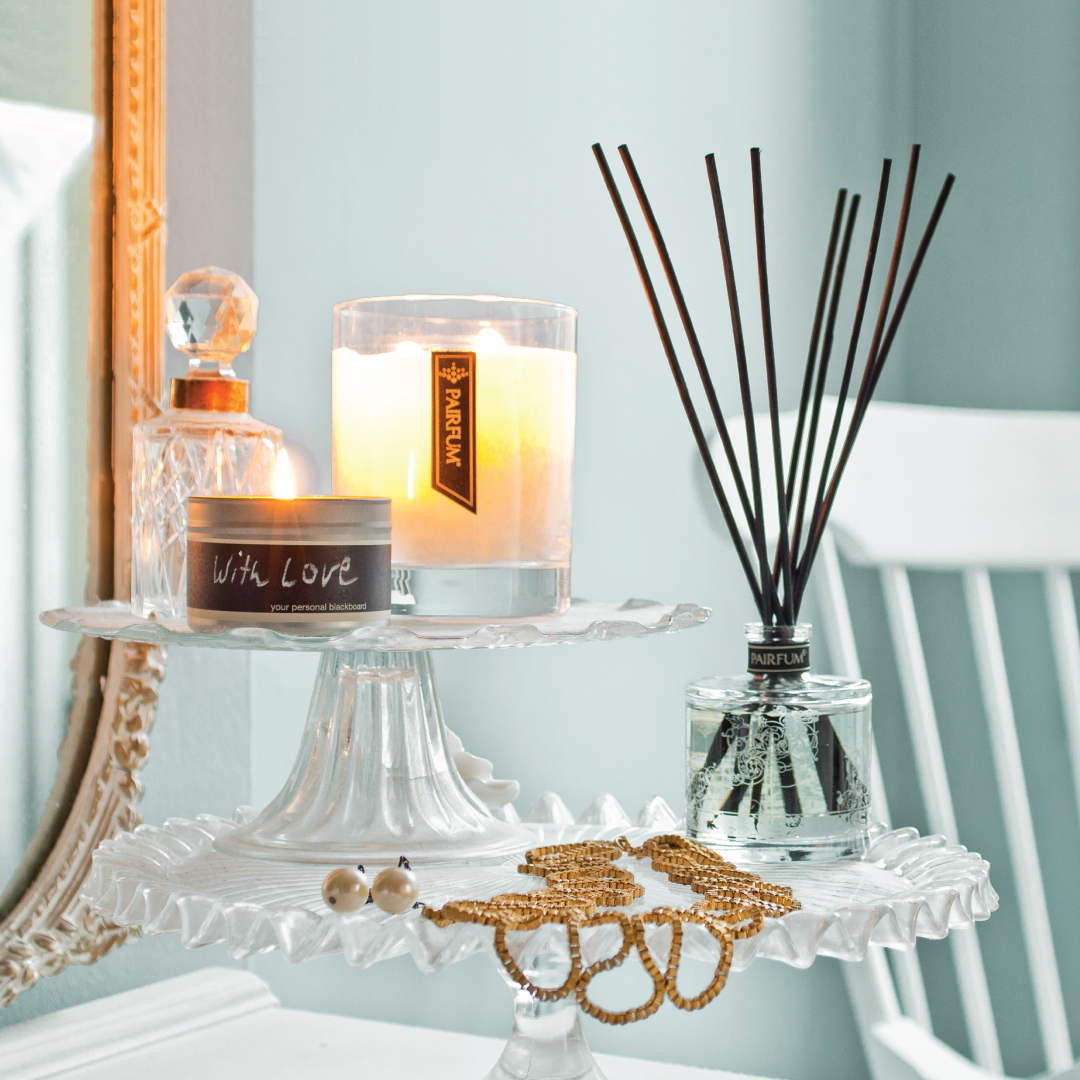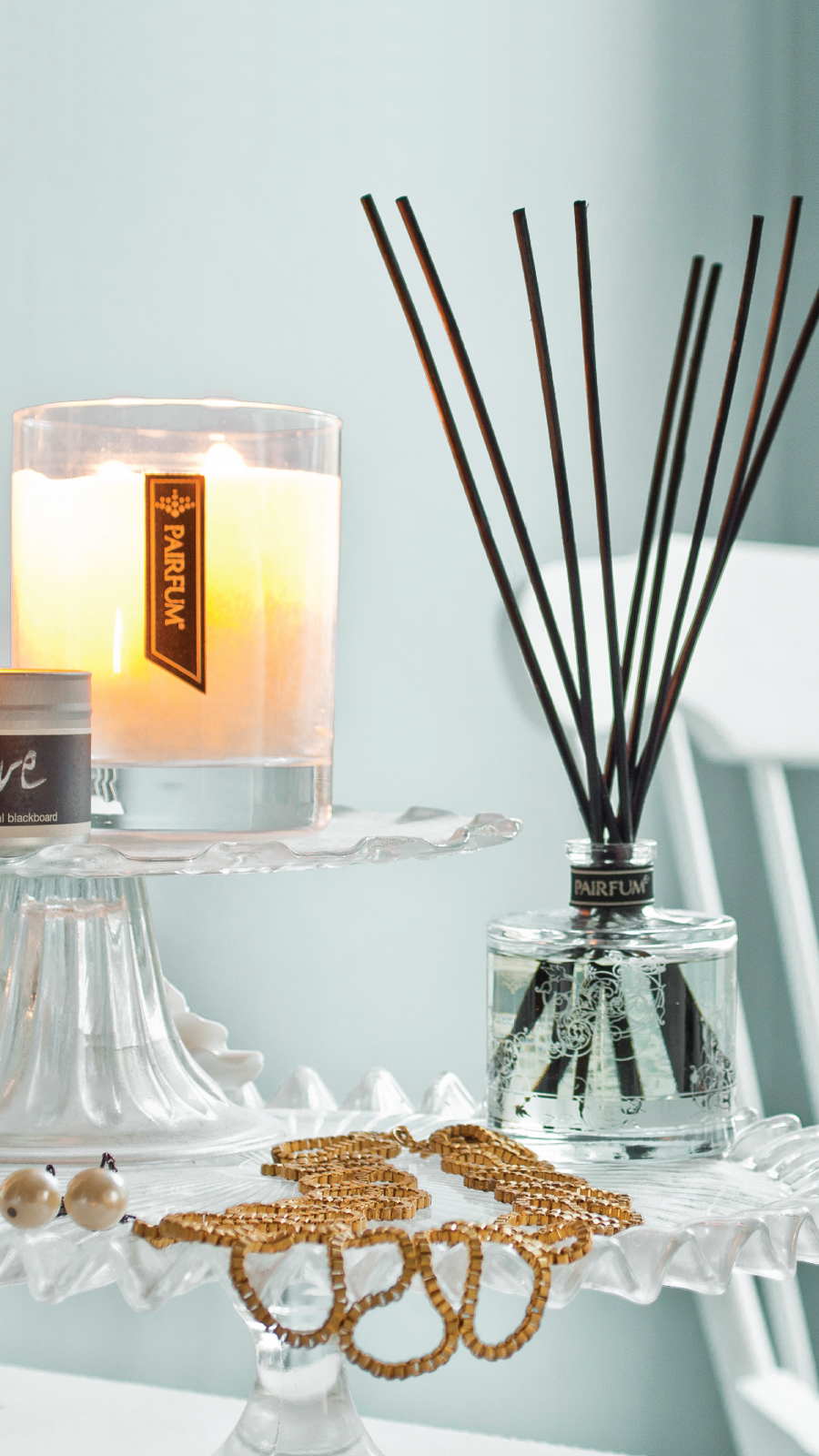 Rise above the mere functional with 

PAIRFUM
Natural Reed Diffusers For Healthy Living
Add a beautiful aroma to your home with naturally scented diffusers: Pure, infused perfume oils are slowly released from the bundle of natural rattan reeds, permeating your living rooms with a sophisticated fragrance. Black reeds stand out from the norm but blend subtly into your home. Just place them into our Italian glass decanters. You may turn the reeds to increase the fragrance in your rooms.
PAIRFUM Reed Infusers use an innovative, highly fragrant oil serum, which is healthy ( non-VOC ), recycled and biodegradable.
Reed diffusers contribute to a multi-sensorial experience within your home and are sure to delight visitors and friends alike.
Transform your rooms into havens of boutique luxury:
- the 'healthy' reed diffuser with a perfume serum: non-VOC, non-toxic, non-carcinogenic, non-flammable, recycled and biodegradable
- highly fragranced with couture perfume, i.e. more pure oil than an 'eau de parfum'
- 10 x extra tall, natural rattan reeds in black
Live in a Healthy Atmosphere with Long-Lasting, Natural Home Fragrance
Enjoy a touch of 

Pairfum 

in your home.
Reed Diffuser Buying Guide - Part 1
What are they ? How do they work ?
Not all Reed Infusers are the same and can vary greatly in quality and consistency.
They consist of a bottle (or container) filled with a perfumed infusion and reeds, which in some cases (but not all) are natural rattan reeds.
All aroma diffusers fundamentally work the same way: the reeds draw the perfume infusion up the length of the reed from where the fragrance evaporates into the room.
There are three different types of fragrance liquid:
The first generation liquids were essentially alcohol and perfume, similar to an 'eau de toilette'. Their main downside was that they evaporated too quickly (the alcohol is typically gone in less than a week !) and they were not very consistent over time. Today only older and cheaper scented diffusers still use this type of formulation.
The second generation switched from a light & volatile alcohol to a 'heavier' alcohol that evaporates slowly. These heavy alcohols have recently come under scrutiny as they may damage the lungs when there is too much solvent in a home.
Eliminating these harmful solvents was the drive behind the third generation of reed diffuser serums (or so called non-VOC liquids). PAIRFUM is one of the pioneers of this type of oil diffusers. This type of aroma diffuser is currently the best reed diffuser and what we recommend you choose.
How do you spot 1st or 2nd generation scented diffusers that are made using this combination of alcohol & fragrance oil ?
Here are some simple tests you can use before you decide:
can you smell the distinctive odour of alcohol? This highlights a 1st generation diffuser.
check the length of oil diffuser sticks / reeds supplied with the product. Long reeds usually mean 3rd generation.
look at the number of reeds used. 10 x reeds or more indicates a diffuser of the 3rd generation.
Caution: as with all perfumes, reed infusers should at all times be kept out of reach of children and pets.
How do you regulate the fragrance intensity & longevity ?
The more reeds you use, the stronger the fragrance! In turn, the also means the perfume oil empties faster or your reed diffuser does not last as long.
This is especially the case where a room diffuser has been made using alcohol (1st generation) or a heavier alcohol (2nd generation).
These manufacturers try to extend the life-span of their products through:
short reeds (approx 20 cm or 8 inches in length or shorter) are used in products that contain the alcohol / oil mix.
a low the number of oil diffuser sticks / reeds being included in the pack (and in most cases this is 6 and under), is an indication of a method used by manufacturers when they wish to slow down evaporation.
To ensure best performance, PAIRFUM Reed Diffusers should be used with ALL of the 10 x extra-long reeds supplied in the pack.
Where to place your reed diffusers?
Room Diffusers work continuously and thereby lend themselves ideally to rooms such as the entrance hall, the bedrooms, the guest rooms, the bathrooms but also the kitchen and living room. Essentially, there isn't a room where they are not suitable.
Pro Tip: One of the most important rooms in your home is your hallway ! It is the first room your visitors, friends and family come into contact with when they enter your home. It sets the tone for the rest of your house and yet we frequently forget to prominently display a sensory treat, like a reed infuser. Why not give it a try. You may be surprised at the result.
What to do for different room sizes ?
There are two approaches:
1. Vary the number of reeds you use in your Aroma Diffuser
For a smaller room you may wish to use less reeds for a pleasant, subtle fragrance.
Whereas a large room, such as your livingroom, will require that you use all of the included reeds to fully infuse the room with a scent.
2. Buy a small or large Scent Diffuser
Depending on the size of your rooms, you may buy a differently sized Reed Infuser.
Here are two examples:
Find Out More

What are the benefits of using reed diffusers?

Reed diffusers are a popular and convenient way to add fragrance to a room. They work using reeds; thin sticks made from natural materials such as rattan, to diffuse aromatic essential oils into the air. 

The many benefits to using reed diffusers for essential oils are as follows:




1. Easy to Use

For best results, simply place the reeds into our glass decanters and the essential oils will begin to diffuse into the air. They do not require any electricity or batteries and can be placed in any room of your house.

2. Safe and Natural

Unlike electric air fresheners, our natural reed diffusers do not produce any heat or flames and do not use any harmful chemicals. They only use natural fragrance oils, which are safe and non-toxic for you, your pets and your home.

3. Long-lasting fragrance

The essential oils can last for several weeks, depending on the size of the diffuser bottle and the type of oil used. This means that you do not have to constantly replace the oils or the reeds, making reed diffusers a cost-effective option for home fragrancing.

4. Versatility

You can choose from our wide variety of essential oils for diffusers, each with its own unique fragrance and benefits. For example, lavender oil is known for its calming properties, while vanilla oil can help with mood enhancement and improved sleep.

Our natural reed diffusers offer an excellent alternative to other home fragrancing options and can provide additional benefits such as relaxation or concentration depending on the essential oil you choose. It is a perfect way to freshen up your home without any electricity or creating a fire hazard.

Choose from Pairfum's extensive collection of the best luxury reed diffusers and natural fragrance oils.
Pure Luxury with a Conscience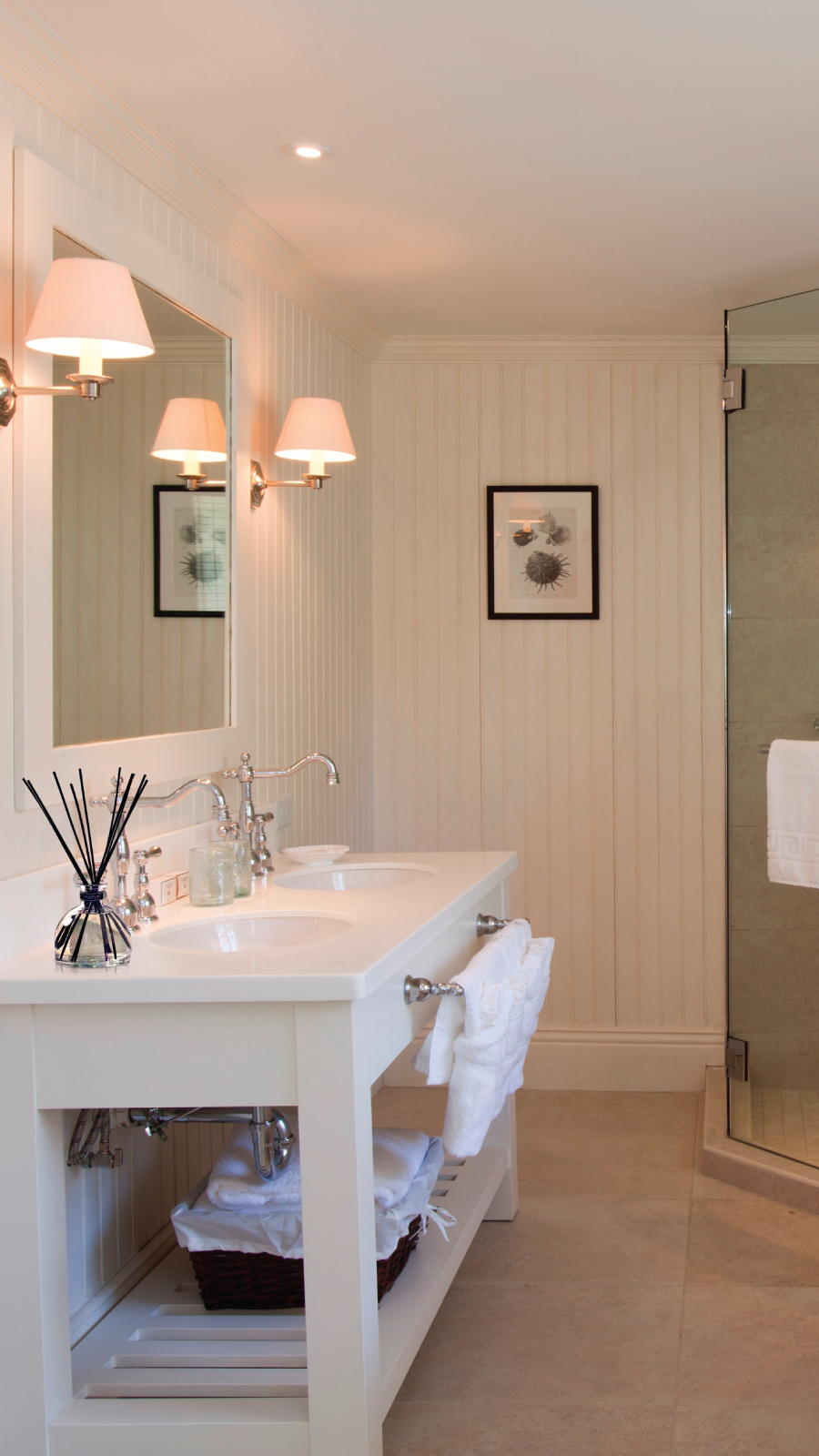 Handmade by Artisans in our Ateliers in the UK
Reed Diffuser Buying Guide - Part 2
Refill for Reed Diffuser? How to Refresh?
Over time, your reeds will clog up and become saturated with natural fragrance ingredients. This is not because these ingredients are of a lower quality. Instead, it is linked to evaporation, e.g. vanilla is crystalline and very slow to evaporate which in turn means it tends to block the porous channels of the diffuser sticks / reeds.
To give your home fragrance diffuser a new lease of life, simply replace your reeds with a fresh set and you will find that the fragrance will flow again.
Another tip is to turn the reeds over to refresh the fragrance in your room. Be careful though to wash your hands thoroughly after touching the saturated reeds and ensure that none of the reed diffuser liquid spills to damage your furniture, clothes, fabrics or any other material that may be affected by the high concentration of pure perfume oils.
Once your reed infuser bottle is empty, it is time to replenish it with a reed diffuser refill (or also called diffuser refill oil or simply refill oil). It is handy to keep a few in stock.
Pro Tip: When you treat yourself to a new refill, don't forget to include a fresh set of diffuser sticks (also called diffuser reeds, rattan reeds, natural reeds, bamboo reeds).
Refilling a fragrance diffuser also offers two other opportunities:
However, please be careful in both cases as a lot can go wrong. To avoid this, please refer to our special guides here and here.
How are Design Schemes & Colours influencing the choice of a room diffuser ?
This is where you come into your element, as a reed diffuser should blend with colour scheme in the room but it can also be used in the same fashion as you would place an accessory or set an accent (similar to an accent wall).
In this context, the colour of the reeds, the bottle, the collar and the liquid, should either be neutral so that they can fit in to many different design schemes (especially important when you give an aroma diffuser as a gift) or the direct opposite, in that they match your specific colour scheme.
What are the best natural fragrance oils for each room?
Our natural fragrance oils are a great way to add a touch of ambiance to any room in your home. 
Here are some tips for choosing the best essential oils for diffusers in different rooms.
1. The Living Room
Consider using a warm and inviting aroma such as vanilla or rich spices. These fragrances will create a cosy and welcoming atmosphere, perfect for relaxing with friends and family.
2. The Bedroom
Use a calming and soothing fragrance such as lavender or magnolias. These ingredients will help to promote relaxation and sleep, making it the perfect addition to your bedtime routine.
3. The Bathroom
Use a refreshing and invigorating perfume-infused oil like orangerie blossoms. This will help to energise and refresh you after a shower or bath, and also help to eliminate any bad odours.
4. The Kitchen
Use a citrus or herb fragrance such as bergamot and white tea. These aromas will help to create a clean and fresh atmosphere, perfect for cooking and entertaining.
5. The Office Space
Use a focus-enhancing aroma such as white sandalwood. This will help to promote concentration and productivity, making it an ideal addition to your work environment.
Along with exquisite essential oils for diffusers, we also offer high-quality home fragrance diffusers to ensure that the scent is evenly distributed throughout the room. You can also adjust the amount of oil used depending on the longevity and intensity that you're looking for.
With an amazing range of aromas available, you can find the perfect fragrance for any room and any mood.
How do the Seasons or Special Occasion play when choosing a reed infuser ?
Similar to the decorations you use in your home depending on the season (spring, summer, autumn, winter) or the special occasions throughout the year (Christmas, Valentine, Mother's Day, Easter, Halloween, …), you may wish to fragrance your house accordingly.
This may lead you to light, fresh fragrances for the Summer and heavier notes for Winter, a 'rose' fragrance around Valentine or spicy notes for Christmas.
Pro Tip: As most of us expect 'longevity' from their reed diffuser, it is important to keep in mind that the fragrance you choose, will have to be suitable for multiple seasons or occasions and you may wish to avoid a scent which is too specific. You may tire of a Christmas spice fragrance when the first signs of Spring burst into life.
What is the purpose of the room ? What is the mood ? In which context will you enter the room ?
Are you looking for a calming fragrance for your bedroom which helps you to sleep or would you prefer something energetic for the morning in the bathroom?
What atmosphere or mood would you like your home to radiate when you come back in through the door?
What feeling would you like to express? Should it be happiness, relaxation or comforting?
Choose your fragrance diffuser accordingly and refer to our perfume guide for inspiration.
Why Choose Pairfum?
At Pairfum, our highly-skilled perfume artisans have years of experience in the field of creating a wide range of incredible and unique fragrances using various natural ingredients. 
With our love and passion for niche fragrances, we've crafted a variety of exquisitely fragrant products including boutique perfumes, room sprays, scented candles, reed diffusers, prebiotic skin care items and more.
We pride ourselves on our ability to create unique and invigorating fragrances for you and your home.
Check out our collection and start shopping at Pairfum today!
What atmosphere or mood would you like your home to radiate when you come back in through the door?
What feeling would you like to express? Should it be happiness, relaxation or comforting?
Choose your fragrance diffuser accordingly and refer to our perfume guide for inspiration.
Find out more about PAIRFUM's Artisan Fragrances and take a look at our Perfumery Guides.
Transform your home into a Haven of Boutique Luxury.
Treat your Senses to a Luxurious

PAIRFUM

.
Read in our Blog & Magazine about:
Anything 'Making Scents', e.g. perfume memories
Home Fragrance, Couture Perfume, Skin / Bath / Body Care
Ingredients, e.g. natural / organic essential oils, flowers, bees, waxes.
Your Home, e.g. beautiful interior designs, architecture, decor, ...
Food, Drink, e.g. essential oils in foodd, desertd, drinks,...
Britain, e.g. London, the Queen and Royal Family, ...
Enjoy shopping in our online Boutique:
Natural Home Fragrance:
Luxury Scented Candles, Reed Diffusers and Refill Oils, Perfume Room Sprays, Sleep & Pillow Sprays, Fragrant Botanicals, Wardrobe Sachets, Drawer Liners, ...
Natural Perfume:
Eau de Parfum "Intense" Sprays,  Eau de Toilette Sprays, Eau de Parfum Travel & Purse Sprays, The Perfume Experience Box, ...
Organic Bath, Body & Skin Care:
Hand Lotions and Creams, Hand Oil & Washes, Body Lotions, Body Washes and Shower Oils, Foam Bath, Hand Soap, …
Gifts & Giftsets:
Giftboxes, Giftsets, Luxurious Gift Bags & Tissue Paper, Gifts for Men, ...