The Power of Presence
Hi Beautiful People,
Recently I had to make a large IMPACT at an event. I was both excited and nervous about it at the same time. I knew I was going to be in the company of some big hitters and I wanted to be memorable – but for all the right reasons. To gain the respect of the group, I have a number of hints and tips that have worked for me for years.
I shared my secret tips with one of the conference members and they thought it was so good I was asked to come and share my tips with their whole executive team. You see, after 30-odd years in the fashion and beauty industry, you pick up stage secrets and esteem-boosters and they become second nature. These exact same skills can be taught to boardroom and C-Suite executives. You won't find these in a Leadership manual; but the role of a Leader is often the one of a performer. If you lead a team of people, you need to have style, swagger and be in the state of total focus.
Confidence is King when it comes to holding court. People need to trust you. Confidence is not arrogance. It's not about being better than others; it is about trusting in your own ability.
Respect is both earned and learned. The first respect needs to be self respect. For example, walking the talk; being the type of person you would want to meet. It's then you gain respect from others. When these skills align, you gain influence and this evolves as presence. People who trust you will change their behaviour or thinking in your favour. It's why high profile people have influence over their fans. "I'll have what she's having!" attitude.
'Presence' is not reserved for the elite. Far from it. In fact when you have unique #presence, it is your gift to the world. People admire you and they want to be around you. In return, you make others feel special and wonderful; because it is the real connection, the authentic interest, that people crave.
I went to two funerals last month within 5 days of each other. Although sad, they are a good reminder of how precious life is and how quickly it can be over. So please please don't play it small. Spread out those beautiful wings and fly! If you can't do it alone – you have my email address. Let's do it together! It's what I do. Let me show you how amazing you truly are!
Love Trish x
Signature Scent In Lingerie Drawer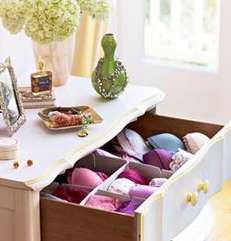 Keep your perfume in your lingerie drawer. Perfume works best on warm skin rather than fabric so the best time to apply it is when you are putting on your underwear. (Yes, nude!)
The bonus is you'll remember to apply it daily as well as increasing its shelf life by keeping the perfume out of the sunlight. You'll be just smelling beautiful. x
How Predictable Are You ?
Yes, we crave routine. It helps us remain sane in our ever busy lives. However, this basic need can also become our ball and chain. Sometimes you need a gentle shove to stop being so predictable (aka Boring to even thyself!). To create a refreshing, engaging life try simple things like … Walk a different route. Order a different coffee from a different coffee shop. Wear something you already own differently or mix up accessories like you've never done before.
"It's easier to stay in one look and one comfort zone. It's inspiring to see someone whose only predictable quality is being unpredictable."
Put your hair up in a new style. Go and speak to the woman at work you've not spoken to before. Give your neighbour some home-made muffins. Instead of having the meeting in the board room, tell everyone it's a walking meeting and take it outside. Mix two lipstick colours together. Eat differently at breakfast, lunch and dinner. Seriously – the opportunities are endless. Get excited about your life again! And do so with gusto! Why? … Because you are worth it! ‪
Colour Combo's | What works
The best colour combinations always come from mother nature. Simply put together the colours you see around you.  For example, dusty rose and grey.   These work perfectly.
A guest post by Trish Murray – [email protected] – www.trishmurray.com.au