About Daffodils
Daffodils are considered one of the heralds of spring.
Their common name is Daffodil and their Latin, botanical name Narcissus. They are a bulb that is part of the amaryllis family, Amaryllidaceae.
Planted between September and October the previous year, the bulb develops roots before the beautiful yellow and white flowers burst out the following spring from February to early May. They can be found in borders, containers but also parks and by the roadside.
Their typical height and spread are 5cm (2in) to 50cm (20in). They prefer sun or light shade and are an easy to grow bulb. The plant is very resistant and most sorts survive cold winters to flower for many years.
The flowers are either yellow or white, trumpet or star-shaped and grow on a long stalk with green leaves. In all, there are about 26 wild varieties but many hundreds of cultivated versions.
Mainly based on their flower form, Daffodils are categorised into 13 groups, mainly based on the form of their flower:
Trumpet: flowers with cups (the corona) that are longer than their petals
Large-cupped: with large cups but the corona is not longer than their perianth segments
Small-cupped: the flowers have small cups, much shorter than their petals
Double: double blooms, with a ruffled appearance, but no clear distinction between petals and cup
Triandrus: small-flowered daffodils with pendent blooms, up to five, which naturalise well in grass
Cyclamineus: small flowers with petals sweeping back from the cup (i.e. reflexed perianth). These are an early flowering species and naturalise well in grass
Jonquilla and Apodanthus: These are the fragrant varieties and they display up to five small flowers per stem
Tazetta: another fragrant variety with up to 20 small flowers per stem, with sadly some only half hardy
Poeticus: another variety that can be naturalised in grass. They have small cups with a contrasting colours to their large white petals
Bulbocodium: in this variety the cups are much larger than the petals and they are short, with delicate, rush-like leaves. They naturalise well in grass.
Split-corona (Collar or Papillon): they look like orchids, with a cup split into segments. In the papillon type (typically with a whorl split into six segments) the face appears flatter and more open.
Species daffodils (including wild narcissi): these small species grow well in rock gardens and pots
Miscellaneous: daffodils that do not fit any of the above groups
History of Daffodils
Daffodils originate from Southern Europe and North Africa, but some varieties can be found in Asia and China. Some claim that narcissus originated from Persia and was brought to China in the 8th century by travelling traders along the Silk Route.
The flower is  linked to the Greek myth of Narcissus, who became so obsessed with his own reflection, that he knelt down to gaze into a pool of water. Sadly, he toppled into the water and drowned. The Narcissus plant sprang from where he died.
The name probably has its origin in the Greek word of 'narke', which became 'narce' under the Romans, meaning 'numb' and is a reference to its narcotic effect.
For more than a thousand years, Narcissus oil has been used for many different purposes, in both ancient Rome and the middle East:
Narcissinum was the name the Romans gave the fragrance they created using narcissus unguent.
In Arabia it was used in perfumery but also to cure baldness
In India, the oil of the narcissus (as well as fragrant oils of sandal, jasmine, and rose), is utilised during ritual cleaning before attending prayers.
The French used it as a scent in early cosmetics (powders, soaps and lipsticks) but they also treated epilepsy and hysteria with it
In China narcissus is associated with good fortune and gain. Even today, narcissus remains as a symbol of awakening and hope.
Narcissus Oil
The oil was historically extracted through a technique called 'enfleurage', whereby the individual petals are placed on plate of lard. The fat draws the oil from the petal and after a few days the petals are replaced by fresh ones. This is repeated until the lard is saturated with oil. At this stage it is called the 'pomade'. The pomade is then filtered and distilled to produce the oil.
Nowadays, the oil is typically extracted using volatile solvents. About 500 kg of flowers are required to produce 1 kilogram of concrete or 300 g of absolute. 'Concrete' and 'Absolute' refer to different stages of refinement of the natural extract. It explains, however, why natural narcissus oil is so precious and expensive.
Today, the major quantities of natural narcissus essential oil are produced in the Netherlands and in France.
The main varieties used for oil extraction are Narcissus poeticus, Narcissus tazetta and Narcissus jonquill.
Fragrant Varieties
Have you tried smelling a Daffodil or wondered what this wonderful member of the Narcissus family smells like?
Most hybrid and over-bred bulbs you find in some Garden Centres today (and there are several hundred cultivated varieties) will not produce a fragrance and yet there are many wild daffodil varieties (around 26) that are marvelously fragrant. This means in turn there are many different scents and yet the typical olfactive profile associated with Narcissus reads as follows:
heady floral with sweet and green nuances.
The scent of narcissus oil is strong and rich. It reminiscent of dark green leaves with traces of hyacinth and jasmine.
We have also been able to smell some varieties that were 'spicy' and others with 'musky' or 'vanillic' tonalities.
Narcissus would generally be classified as a 'green-floral', together with hyacinth and lily of the valley.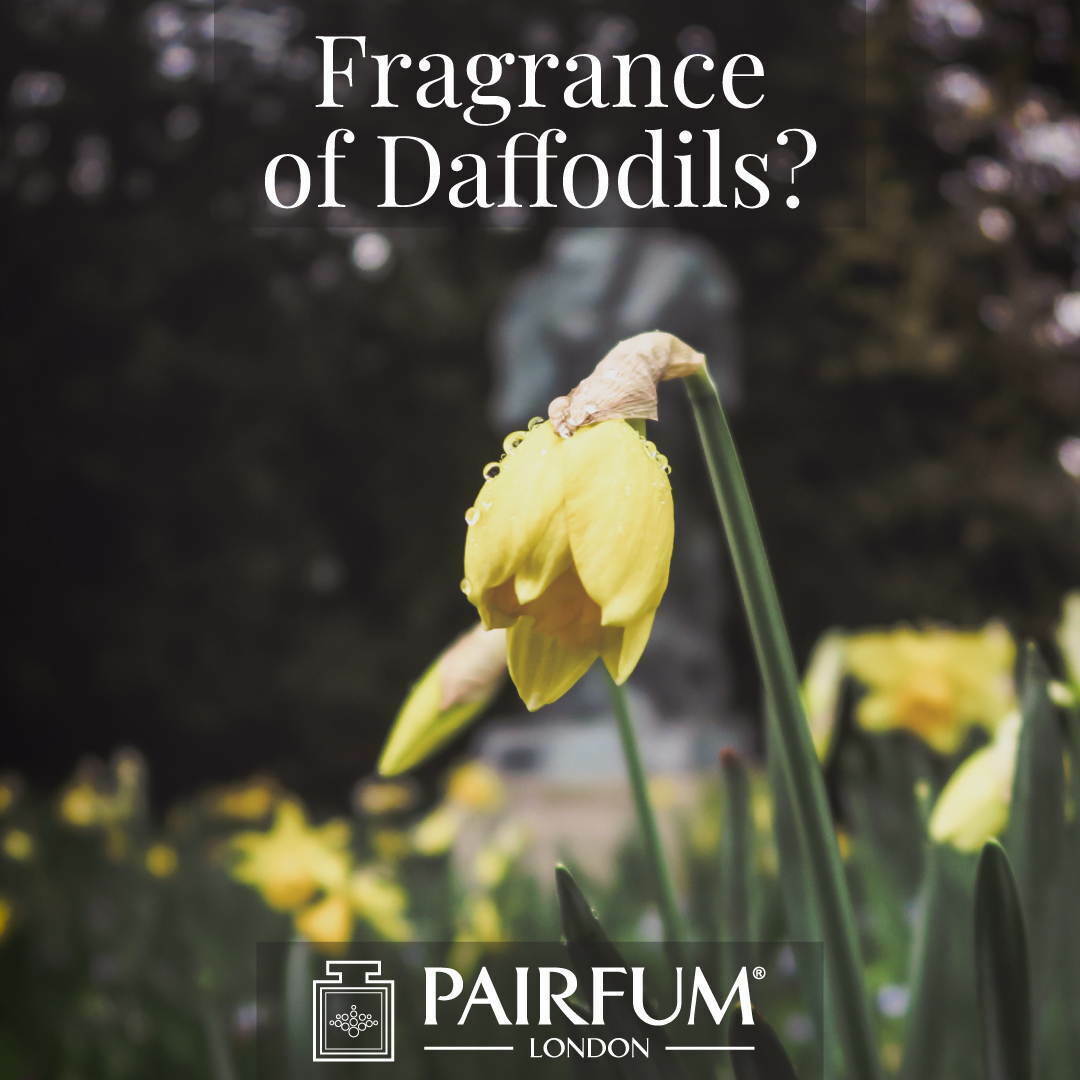 Daddodil Fields in Great Windsor Park
If you would like to experience the joys of spring, feast your eyes on an acres of daffodils in the wind and actually smell some beautiful daffodils, then head over to 'Great Windsor Park' (near Windsor).
The fields of yellow you will enjoy, perfectly illustrate this poem by William Wordsworth:
I wandered lonely as a cloud
That floats on high o'er vales and hills,
When all at once I saw a crowd,
A host of dancing daffodils
Beside the lake, beneath the trees,
Fluttering and dancing in the breeze
Daffodils in Home Fragrance
Here at PAIRFUM we don't have a true Daffodil fragrance but our 'Trail of White Petals' contains Daffodil oil and this floral perfume has the sweet and green nuances typically associated with Narcissus. Trail of White Petals is available in perfumed candles, natural reed diffusers, perfume room sprays and many other products.
Bring the scent of spring into your home with Daffodils !
There is nothing more enjoyable than a PAIRFUM Flowerwax Candle or Reed Diffuser in 'Trail of White Petals', spreading the scent of spring in your home.
Daffodils & Narcissus in Perfumery
Here in the gallery below you can see a few perfumes where the narcissus plays a prominent role in the fragrance accord.
You will notice that we have included both classical fragrances, e.g. Nacisse Noir by Caron for women, and also modern interpretations, e.g. Eau de Narcisse Bleu by Hermès, for both women and men.
Summary
As you can see 'Daffodils' or 'Narcissus' are quite clearly fragranced and they play a prominent role in perfumery.
Sadly, through breeding many varieties we see today have lost their scent.
Should you be passing Windsor Great Park in the UK in Spring, we invite you to visit the fields full of Daffodils. It is a feast not just for your eyes but also your nose.