We were truly enchanted when visiting a customer on the border of Hampshire and Wiltshire. They showed us their beautiful 'Bluebell Wood', just a small part of their magnificent garden.
The Perfume of the Woodland Bluebell filled the air and was only matched in majesty by the Birdsong.
Watch the video at the bottom of this article and listen carefully to the bird song.
The Bluebell Wood at its Best
The bluebells which do flower will produce even more perfume than usual this year. The reason for this is that flowers concentrate more energy on breeding during a dry period rather than on producing succulents. They will produce more nectar and therefore more scent in order to attract pollinating insects.
Bluebells are sometimes called 'Common Bluebells' but they are anything but common. This spectacular plant is only found in northern Europe, with Britain containing more than half of the world's population.
The bluebells native to Britain are mostly referred to as 'English bluebells' but they are also known as Bell Bottle, Wood Hyacinth, Witches' Thimbles, Lady's Nightcap and Wood Bell.
They are a protected species in the UK and a woodland carpeted in masses of bluebells is one of the most magical and one of the greatest woodland spectacles you can see.
A bluebell wood in full bloom is a true delight for all your senses.
As you wander through a bluebell wood with dappled sunlight kissing the flowers and their scent wafting through the air, it is nature at its best. This is a quintessential British sight during the spring months. It lets us know that the days are getting longer, warmer and that Summer is on its way.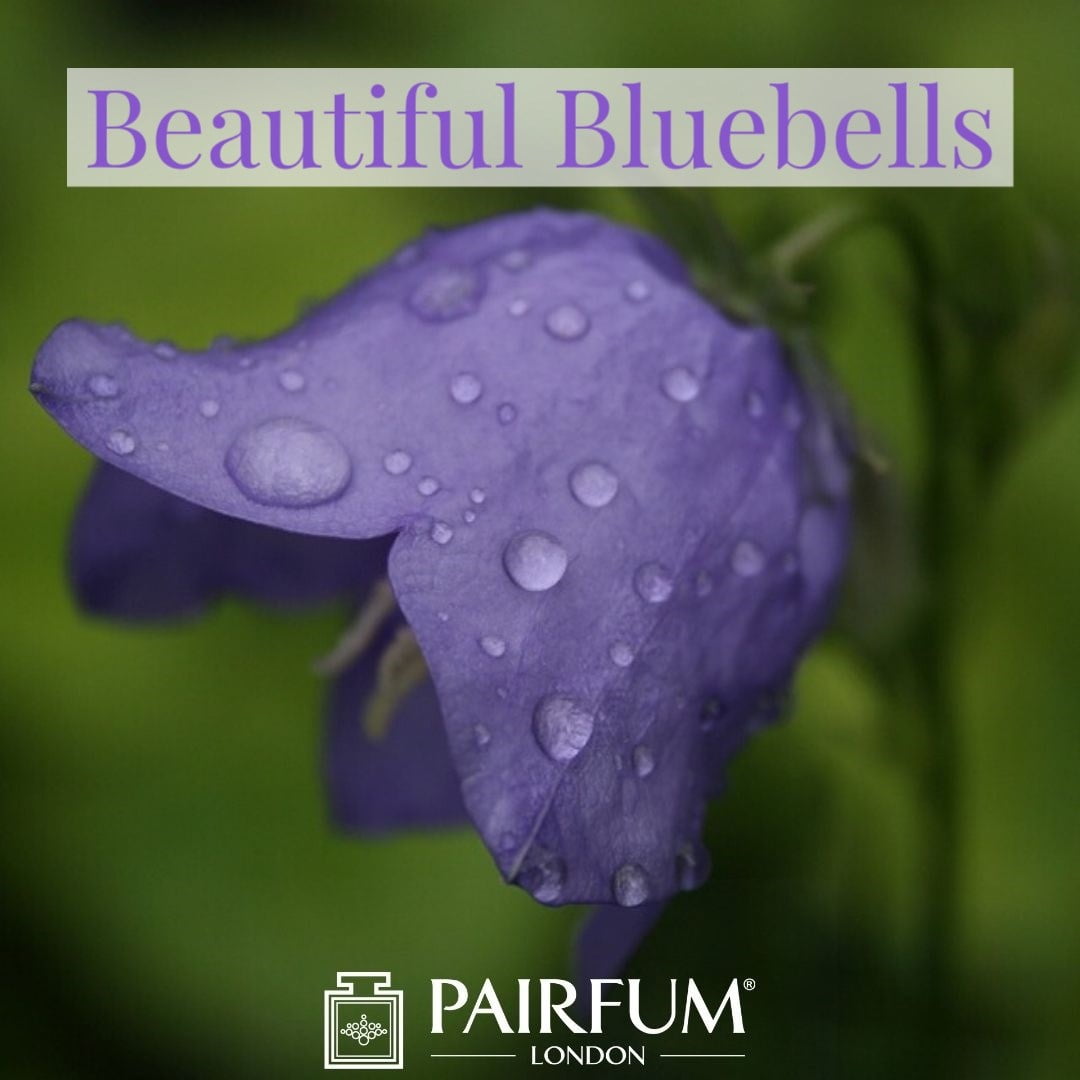 When Bluebells transform our woodland in springtime, the carpet of intense blue under the tree canopy stretching out into the distance is a scene full of delicate fragile flowers. A beautiful sight that once seen will remain with you for ever. It will come as no surprise that the British bluebell is one of the nation's best-loved flowers.
Bluebells as a Protected Species
We are very fortunate in the UK because bluebells are relatively rare throughout the rest of the world and in fact the UK is home to over half of the bluebell colonies in the world. Therefore, it is very important that bluebells are well looked after.
English bluebells are so precious in fact that footfall damage can be devastating to a bluebell population. If a bluebell's leaves are damaged or destroyed, they will be unable to photosynthesise which will unfortunately cause them to perish.
Their vulnerability is exacerbated by the fact it can take up to seven years for a colony of bluebells to become established and so any harm inflicted on a bluebell colony will have implications for many years to come.
We also need to take care in which species of bluebells we plant. It is important that we avoid planting Spanish bluebells, especially next to our much more delicate native English bluebells. This is because Spanish bluebells can be much more vigorous and dominate native English bluebells.
To ensure their survival, the UK government actually passed a law making the deliberate act of either destroying, uprooting, or picking bluebells a criminal offence.
(if you are interested in the differences between native English bluebells and Spanish bluebells, there is a small section at the bottom of this article where the characteristics of them both are discussed as well as their hybrids.)
Bluebell Photography
Of course, such laws are not put in place to prevent anyone put from appreciating the beautiful woodland bluebell.
The National Trust actually encourages photography of bluebells and we would like to share some top tips when taking photographs of bluebells.
The first tip would be to try to take your photographs just after midday from mid-April to mid-May. The approaching angle of sunlight at these specific times creates a greater proportion of blue wavelengths which enhances the iconic colour of bluebells. However, in the images throughout this article where the bluebells are against sun-dappled woodland floors the contrast had to be manipulated as the sunlight can create problems with the contrast.
The second tip would be to consider the angle of your images. We would recommend taking some images at the same level of the flower heads closer to the ground. For these types of images, you may want to use a camera, but a phone also works very well.
The third tip is more focused at photography enthusiasts. We recommend that should your camera allow it, always shoot in RAW mode. This is because the human eye absorbs colour differently to a camera lenses and you want to try and reflect being there in-person as much as possible. It is likely that if your camera enables to take RAW images, it will include the required software to post-process your images.
Now that we have discussed how to capture the visual beauty of a bluebell wood, how do we also harness the bluebell's iconic scent?
Fragrance of Bluebell
How can we describe the fragrance of the Bluebells?
The olfactive profile of the Bluebell is reminiscent of the Hyacinth. It is not a very strong fragrance but it becomes very noticeable when walking through a Bluebell wood.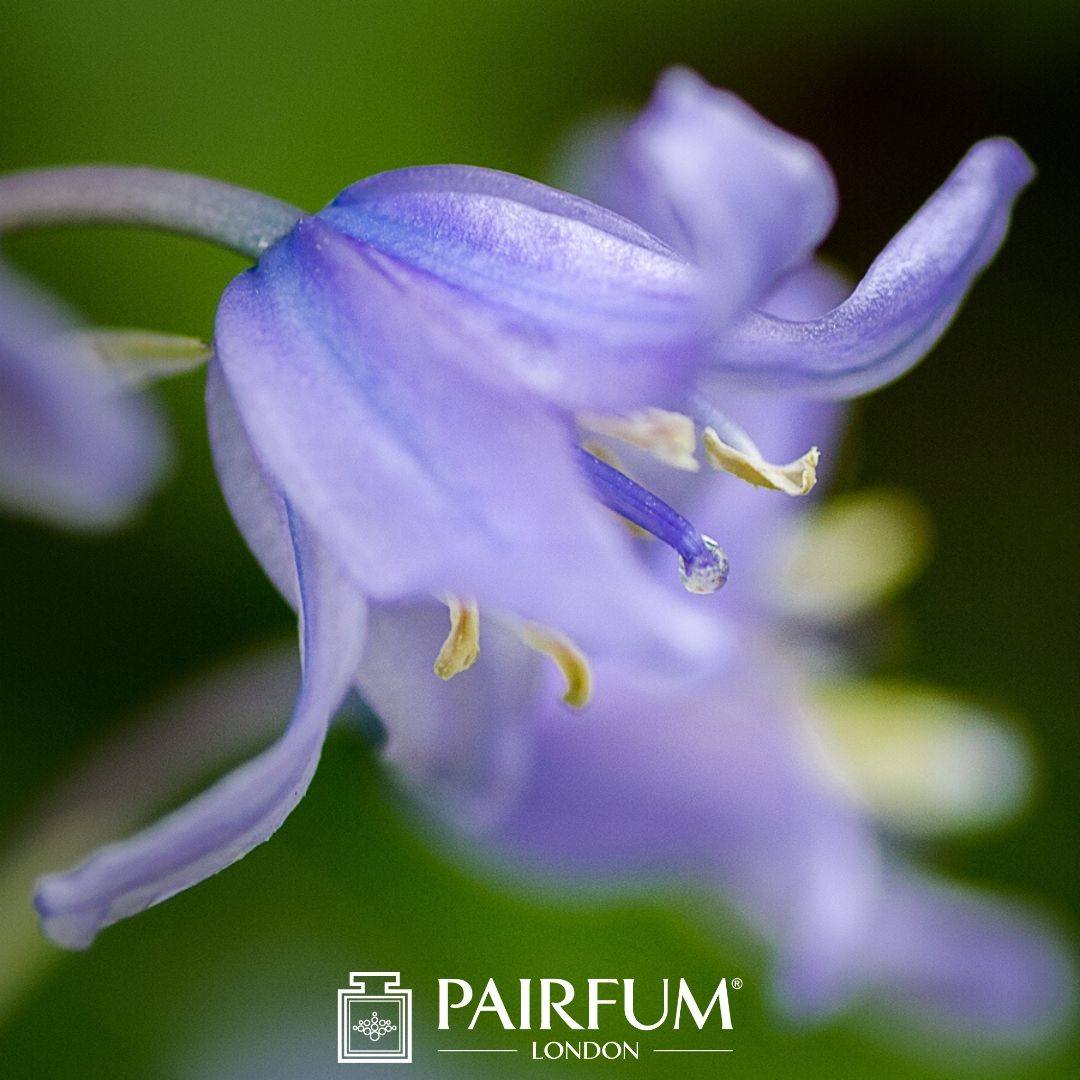 We describe it a green-floral, as it is oily-green and quite intoxicating. Bluebells are not part of the 'white flowers' category (Jasmin, Orange Blossom, Tuberose, Ylang, Gardenia,…), not because of their colour but because they have a richness, headiness and depth that is more reminiscent 'red flowers' category (Rose, Violet, Lilac, Sweet Pea,…). Some perfumers believe there should be a 'green floral' category for flowers such as Lily of the Valley, Narcissus and Hyacinth. This is where we believe the most natural home for the Bluebell is.
In fragrance accords, Bluebell is not typically a dominant scent profile in a fragrance accord, even though many famous perfumes have been created in honour of this beautiful note:
Bluebell by Penhaligon's
English Bluebell by Yardley
Wild Bluebell by Jo Malone
For Home Fragrances, we can highly recommend Pairfum London's White Lavender which contains the beautifully green notes of Bluebell and Hyacinth. It is available in perfumed candles, reed diffusers and perfume room sprays in our online boutique.
Native Bluebell v Spanish Bluebell
How can you tell or spot the difference between a Native Bluebell and a Spanish Bluebell?
One of the ways that you can tell the difference between the Native and Spanish flower, is that in the Native Bluebell the pollen is white, whereas in Spanish Bluebells, the pollen is blue. In the hybrid Bluebell, a variety of characteristics are exhibited which are intermediate in form and a colour between both 'Native Bluebell' and 'Spanish Bluebell'. In other words the hybrid Bluebell exhibits characteristics of both parent plants.
Their wonderful scent is said to have 35 components which attracts pollinating insects deep into the bluebell woods.
Some might say, they also attract passing walkers to sit down, take a welcome rest and enjoy nature in all its beauty …
Photo Gallery Bluebell Wood