Are 70s perfume trends now making a resurgence and does it have anything to do with the Pandemic?
As we are emerging from lockdown, we are becoming bolder and a counter-culture is on the rise. Current anti-racist and environmental activism are direct reflections of how the 1970s were also defined as a politically charged decade. Once again, this freedom and expression are extending to people's wardrobes and fashion choices.
If you are interested in post-pandemic perfume trends more broadly, we invite you to read our recently published article on the subject.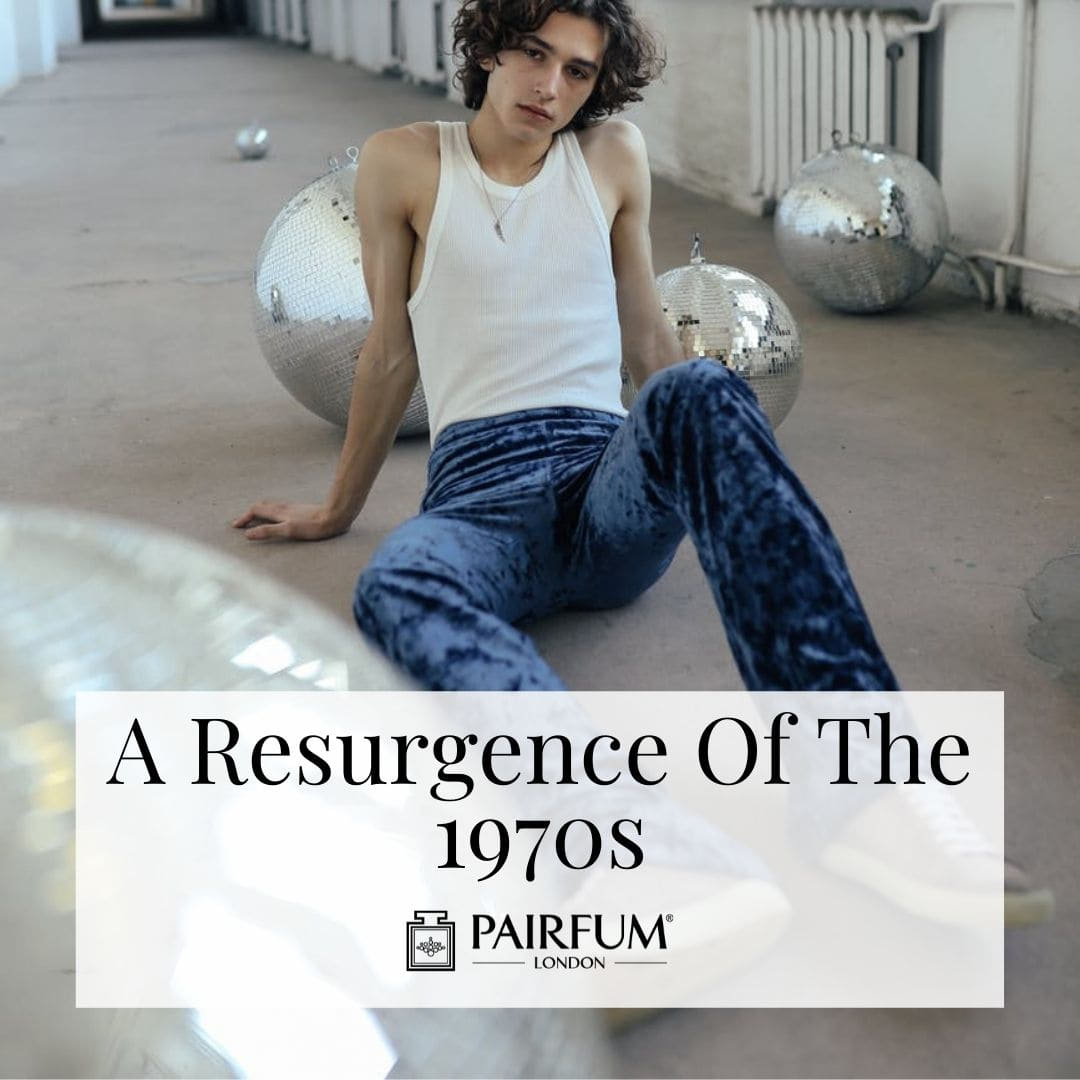 A Revival of 70s Fashion
Throughout the 1970s, you would see men dressing in a more flamboyant manner with a rejuvenating sense of fun while also exaggerating their masculinity. Through web search data we can see a very similar trend emerging today.
Searches for flared jeans have increased by 45% and queries regarding psychedelics have soared.
Sales data shows that quintessential 70s items such as the jumpsuit, tank tops and denim have increased in demand over the past year.
Even the autumn and winter catwalk reflected a 1970s resurgence with representation from a range of styles from glam and rock to hippie and disco.
1970s Style In Post Pandemic Cinema
We hypothesise that much of the web search and sales demand mentioned above are influenced by some high-profile films set in the 1970s that are scheduled to be released in the coming months.
Filming for 'The Tender Bar', Ben Affleck has been photographed wearing retro bowling attire, flared jeans, clog-like loafers, a Cuban-collared jersey and a pair of aviators.
On the other hand, Lady Gaga is playing Patrizia Reggiani in a Gucci biopic set in the early 1970s and full of decadent Italian fashion.
But does this newfound enthusiasm for this classic decade transfer to the classic perfumes?
70s Perfume Trends
The hippie movement is a quintessential aspect of the 1970s and they certainly had their own unique scents. They were mostly either patchouli, sandalwood or tea rose attars.
In true 'flower power' fashion, people during the 70s would style the atmosphere of their surroundings with oil burners or incense which instantly produce an instant retro feeling.
However if one is to analyse 70s perfume trends, then it is perhaps best to start with some of the most iconic fragrances of that decade. e.g. 
Opium by Yves Saint Laurent: incense (myrrh), spices (pepper, cinnamon & cloves) and sandalwood

Anais Anais by Cacharel: white floral (lily of the valley, jasmine, honeysuckle, hyacinth lily) and green.

Charlie by Revlon: woody (oakmoss, sandalwood), green (hyacinth, galbanum), aromatic (vetiver)
Have The 70s In A Bottle
If you are looking for a nostalgic fragrance or if you wish to experience a time gone by, we recommend our Bergamot, Basil & Patchouli – Eau de Parfum