Natural Lavender Candles by
Pairfum
Enjoy Natural Wax Candles with Lavender for Beauty in Wellbeing.
Why Do We Love Scented Candles?
Scented candles are one of life's simple pleasures. If you have had a hard day, want to add a touch of ambiance to your home, or just want to put your feet up and relax, a scented candle can come to the rescue. The world can seem like a much brighter place, once the glow of the flame starts to dance, and your favourite scent fills the room. There really is no better way to end the day, than by letting any tension of the day slip away, enjoying an evening bathed in soft candlelight, and surrounded by a beautiful fragrance.
Some fragrances in scented candles that are easily recognisable. Candied sweet vanilla is a staple of the scented candle, wonderful for any time of year. Cinnamon is perfect for the holiday season, adding some delicious festive spice. Then there is lavender, one of the most recognisable fragrances in the world, it's distinctive scent is fresh and light, floral but not overwhelmingly so.
It goes with out saying that a good quality natural lavender candle, will be a good investment for any home.
How To Spot The Perfect Lavender Candle
Lavender is such a rich and beautiful fragrance, it should be enjoyed at its very best. It is so disappointing when you light a new candle for the first time, only to discover that the scent is either very weak or has an artificial smell that is not too pleasant. So, how do you make sure that you get a lavender candle that is of premium quality. Well, there are a few key factors to look out for:
Excellent Fragrance – Your unlit lavender candle should still smell wonderful, ever when the wax is cold. It makes no sense to buy a candle that you don't like the fragrance of. However, the scent should not be too overwhelming or too strong, as this could be a sign that the candle will be over powering once lit. You want a light fragrance that lifts the room, not one that permeates everything and irritates the nose.
Natural Wax – For the benefit of your health and of the environment, 100% natural wax candles are the best choice. Candles made with natural wax, are the safest ones to light in the home as they don't release potentially harmful soot and smoke into your home.
Lead-Free Wick – Unlike some other candle manufacturers, Pairfum never use lead wick candles, as they have been scientifically proven to release harmful carcinogens into the air. Choose a lavender candle with a natural cotton wick, or wooden wick, they burn just as well, and are much safer for you and your family.
Clean Burn – You want the stunning lavender fragrance to shine through, if you don't get a clean burn, the scent could be tainted by the smell of soot or smoke. Pairfum candles are produced so that the wax and wick are in perfect harmony, the burn is always clean and they produce a perfect perfume throw. No Soot , no black smoke, just gorgeous lavender released into your room.
Beautiful Glass – Your lavender candle, deserves to be presented in a beautiful glass. A large part of the enjoyment of a scented candle is the atmosphere it creates in your home: the soft flicker of the flame, the warm glow and the reflection of the light. Glass is perfect for this - the way the flame dances, twinkles and reflects off the glass, creates such a wonderful effect.
About Lavender
Lavender has an unmistakable smell and appearance from it's long woody stalks and narrow silvery leaves, topped with clusters of small flowers that range in colour from deep bluish-purple to soft purple-grey hues. There are many types of Lavender from the so called English Lavender to Hidcote, Munstead, Grosso, Provence and the wonderful French variety to name but a few. There are also some uncommon varieties of lavender that have beautiful white or pink flowers.
As part of the mint family (Lamiaceae) this wonderful plant is botanically speaking, a flowering shrub and a herb, native to Europe, Asia and Africa, it can also be grown in American and Australia if provided with the right growing conditions. It tends to prefer temperate climates, growing in sunny spots, in stony dry soil, with good drainage making it a popular plant to cultivate.
The timeless charm of Lavender is the reason it has been used in gardens worldwide for centuries. Lavender can be used as a culinary herb, a herbal filler inside a potpourri or scented sachet, but also as an essential oil in combination with a foam bath or as a sleep aid on a pillow.
There are three main types of lavender that are cultivated for commercial purposes. They are:
Lavandula angustifolia, otherwise known as 'English Lavender', although it is not native to England. Native to the Mediterranean, it is a popular lavender variety thanks to it's vibrant colour, beautiful fragrance, and because it can survive with little water.
Lavandua latifolia, also known as 'Spike Lavender' or 'Portuguese Lavender', is native to the west Mediterranean. It has a stronger scent that the angustifolia variety, and is therefore popular for use in aromatherapy.
Lavandula intermedia, also known as 'Dutch Lavender', this variety is a hybrid of L. Angustifolia and L. Latifolia, commercially cultivated for its bigger flowers that are easier to harvest and produce a higher yield of lavender oil.
Lavender's Olfactive Profile
L.Angustifolia has a sweeter note than L.Latifolia and L.Intermedia. Their fragrance tends to have higher levels of terpenes and camphor, which produces their sharper overtone.
All are known for their fresh and aromatic odour that can also be described as dry or balmy. It is typically strong and has been shown to have a relaxing or calming effect.
The Aromatherapy Benefits of Lavender
Lavender is not just a wonderfully aromatic, clean, floral scent. It also has some documented and well known aromatherapy benefits that go way beyond a feeling of overall relaxation. Natural wax candles with pure lavender oil can have a remarkable effect once they are lit, which include:
Stress and Anxiety Relief – Lavender is a calming scent, which makes is a great stress buster, even helping with anxiety and depression. It can also help in the relief of migraines and other headaches, muscle tension, restlessness, and emotional stress. The floral scent, may even increase cognitive function, so it may be worth lighting your favourite scented candle, the night before a big test.
Inducing Sleep – If you having trouble sleeping, consider lighting a lavender candle an hour before bedtime. Lavender's signature aroma stimulates relaxation, with studies showing that lavender oil can help improve sleep regularity. So, if you find yourself needing a good nights sleep, switch off with a lavender candle, always remember to extinguish a candle before getting into bed.
Breathing Easier – When used in a vaporiser, lavender oil has been shown to help open up airways that are congested as a result of a cold or flu virus. So if you are feeling a little under the weather, light your favourite lavender candle, and you might just feel like you can breathe a little easier.
Insect Repellent – The scent of lavender oil is a potent insect repellent. So if your home is a favourite hangout for moths, midges and mosquitoes, burn a lavender candle, and rid yourself of those pesky room mates.
Lavender Scented Candles - An All Purpose Candle
Lavender perfumes are part of the Aromatic family of fragrances. Perfume accords of the aromatic olfactive family are mainly composed of sage, rosemary, thyme and lavender. These aromatic fragrances have virile and energetic qualities, that complement and combine well with many other fragrances, and scents.
While some fragrances have more of a seasonal appeal (such as cinnamon for the festive season, and rose from mid- spring to autumn), lavender is a scent that is appealing at any time of year. It is soothing and relaxing for those cold winter nights, and is fresh and stimulating form long spring and summer days. A lavender candle really is an all purpose one. It will not only work at any time of year, it will also work at any time of day and in any room of the house. Use in the bathroom and kitchen to help neutralise any lingering odours, burn in the bedroom to aid in relaxation for a good nights sleep, or use in the living room for a warm ambience to de-stress and unwind after a long day.
Lavender Candles Make A Perfect Gift
No matter which of our special lavender candles you choose, you can be sure it will make a wonderful gift for a special person in your life. Whether it be for Christmas, a birthday, or a ' just because' gift, everyone is sure to appreciate the thoughtful gift of a lavender candle that will bring a soothing and relaxing ambiance to their life.
A clean burning candle, that releases the most heavenly scent, what could be a better gift than that? Why not treat yourself too, we are sure you have earned it.

Discover
Pairfum

!
Natural Couture Perfume In Your Home & On Your Skin.
Natural Lavender Candles by PAIRFUM
Natural Flower & Soy Wax Candles by

Pairfum
100% Natural Wax Lavender Candles
To insure that you get the best experience out of your scented candle, you should choose a quality product. Cheaper products may seem more attractive than a higher priced candle, but they are likely to be made from, man-made materials that will be of lower quality, and contain potentially harmful chemicals. To make sure that you get a lavender candle that will be best for your home, your health, and the environment, you should always choose one made from 100% natural wax.
Our natural waxes are always sourced from sustainable farms, that employ ethical practices and fair working conditions for their employees. But, there are many other benefits to our natural Stearin and Soy waxes.Natural wax burns more cleanly than paraffin wax candles, and in a well formulated natural wax candle there should be no soot or smoke that can cause some respiratory discomfort, this does not apply to all natural candles as not all candles are made equally. By choosing PAIRFUM's natural wax candle, you will be choosing one that is 100% biodegradable, carcinogen, pesticide and herbicide free. Additionally, even though the cost of a natural wax candle may sometimes be higher than their paraffin counterparts but not in all cases, they may be more cost effective in the long run, as they have a longer burn time. If you are looking for a lavender candle – or any other scent – you can be assured that all Pairfum candles are made from 100% natural Stearin or Soy wax, and are created using essential oils.
100% Natural Wax Candle Comparison
Stearin Wax
Completely Clean Burn – Even when a stearin wax candle flickers it still burns completely clean without any smoke. It is known as the 'Queen of Wax', as no other wax can match it for its clean, smokeless burn.
Hard Crystallised Surface - Dust or dirt cannot stick to the surface of this beautiful wax. Far too often, the surface of natural wax or paraffin candles becomes smudged and smeared after a while, making them impossible to clean. Nobody likes a 'dirty candle' in their home and we all regretfully have to discard these candles eventually. With crystallised stearin this does not happen, as dust or dirt can easily be removed from the surface without leaving dirty marks.
GM Free – Those concerned with the environment, will be pleased to know that our stearin wax is free of herbicides, pesticides and is completely non-GM.
Non-Toxic – Paraffin wax candles can contain harmful chemicals such as the carcinogens benzene and toluene, which can be released into the air, when burnt. Stearin wax candles, contain no such chemicals.
Environmentally Friendly – The stearin wax of our candles is carbon neutral, biodegradable and is sourced from sustainable farms. This makes our candles very environmentally friendly.
Dual Wicks – Having a scented lavender candle with two wicks, ensures an even burn, right to the edge of the glass, even if it is lit for just a short time. There will be no waste and our customers can be assured of getting value for money. Our dual wick candles, contain 100% cotton wicks, to ensure a safe, clean burn.
Beautiful Appearance – Snow Crystal Candles by Pairfum, have a beautiful, unique crystal appearance, like a window pane covered in frosted crystals or frosty snowflakes stacked on top of one another. This gives the little extra sparkle lit by a dancing flame. This crystallised appearance can only be achieved by filling the candle very slowly by hand. Our snow candles are a real labour of love, and we hope you can feel that when you burn one at home.
Soy Wax
Clean Burn – Like stearin, soy wax burns without soot or smoke, or without any remaining wax residue on the sides of the glass. Neither will you perceive a burning smell to spoil the scent of beautifully pure lavender.
Eco-friendly – Cheaper soy candles on the market, often contain paraffin or additives, that really affects the quality, eco-friendliness and burn quality. Pairfum candles are made from 100% natural soy wax. We never compromise on quality and we are passionate about ensuring our consumers come to enjoy Pairfum London as the best soy candles in the market.
Safe Burn – Unlike man made paraffin wax candles, there are no harmful additives or chemicals in the soy wax candles from Pairfum. Consequently, no carcinogens or other pollutants will be released into the air and your home's atmosphere that might negatively affect the health of your family or friends.
Natural Cotton Wicks – The wicks of Pairfum soy candles are made from 100% natural cotton, without any metal filaments, often used to keep the wick upright. Metal filaments are known to release harmful toxins into the air when they are burnt by the candle flame, and have no place in our safe, clean burning candles (nor your home).
Strong Scent - Soy wax candles generally have a lower melting point, which can result in a weaker 'scent throw' or 'fragrance bloom'. To compensate for this, Pairfum work with a grade of soy wax with a higher melting point and add 100% natural flower wax and other waxes which increase the melt point and temperature of the molten wax. The result is a completely natural candle that releases plenty of heavenly fragrance, especially Lavender.
Wonderful Appearance – All our candles create a wonderful atmosphere when burning, with a quality glass that beautifully refracts the candle's warm light and twinkle when the pure, smokeless flame dances, moves and shines. In addition, all of our candles are hand poured by our skilled Artisans in our studio here in the UK to ensure an unmarked appearance and a superb finish that is in the tradition of the best British Luxury Goods.
Natural Lavender Candles
In honour of this wonderful plant and its beautifully versatile fragrance, PAIRFUM has produced a collection of natural lavender candles with three very distinct perfume accords that demonstrate the different facets of Lavender.
All are made from 100% natural wax and contain essential oils to recreate a pure pure and authentic aroma in your home.
Linen and Lavender
- by
Pairfum

-

A fresh breeze of aromatic lavender, with a twist of rosemary, basil and chamomile creates the sensation of crisp and clean linen. Airy ozonic notes radiate from a transparent floral heart of lily of the valley, that is infused with a soft, enveloping musk.
White Lavender
- by
Pairfum

-

This beautifully innocent white fragrance opens with a pure and soft lavender note to combine with a sweet, floral heart, that leads into the sensually enveloping aroma of amber and vanilla.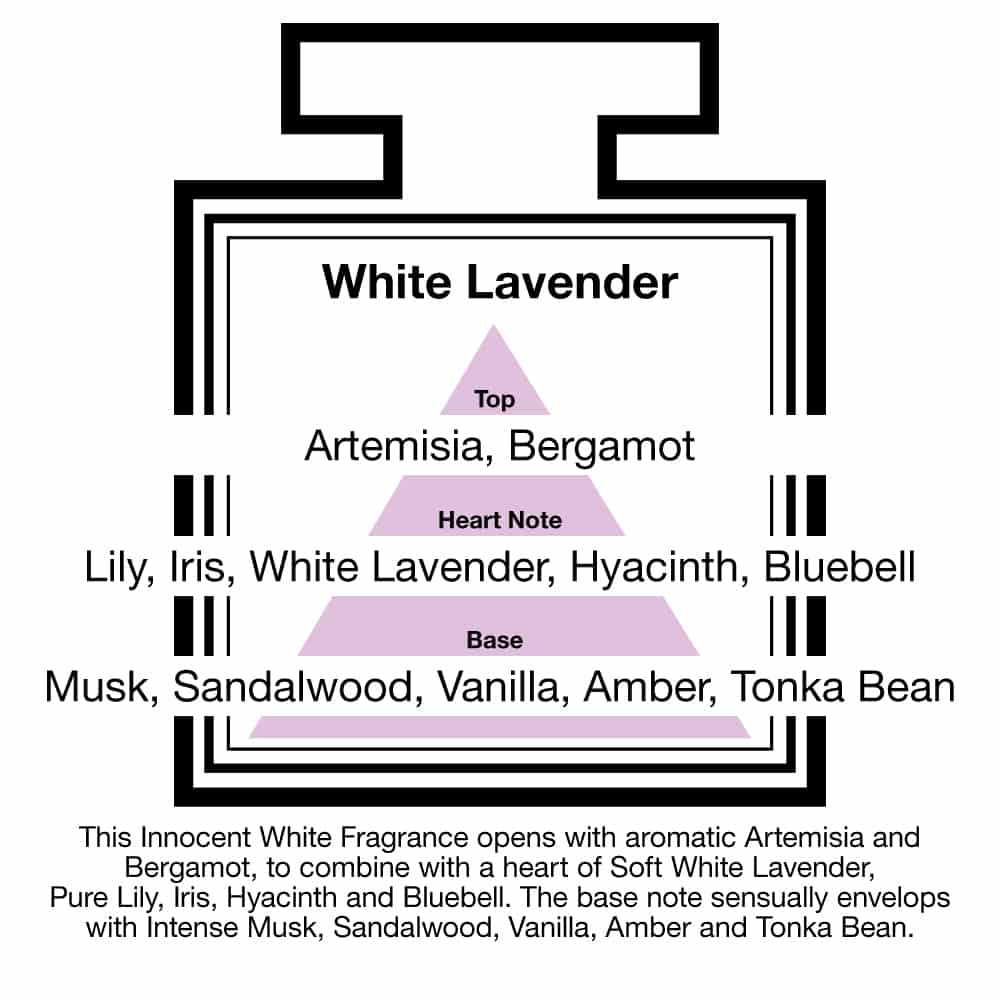 Pink Lavender
- by
Pairfum

-

 A fresh and delicious lavender fragrance with top notes of tangerine, bergamot and hints of dew drops. It has a fruity and yet floral heart of rose, freesia and lily of the valley, which is enriched with a base of musk and aspects of dried lavender.

Enjoy
Pairfum
Natural Couture Perfume in Natural Wax Candles