Natural Rose Candles
Enjoy natural rose candles in beautiful fragrances.
Natural Rose Candles by

Pairfum
The aroma of rose has been present in fragrance production since antiquity, and it's not difficult to see why. The rose is the undeniable queen of the flower realm thanks to its beauty and incredible fragrance. To discover the scent of a rose is such a subtle act it can be compared to that of wine tasting. Depending on the soil, the season and the time of day the scent of a rose can have different tones. Their scent can actually change significantly from one day to the other, even temperature and humidity play a role in the rose's aroma.
The exquisite scent of the rose is what makes rose candles so popular, every rose has its own scent which makes its aroma unique.
There are several properties that make the rose aroma so intense, starting with the fact that not all roses exude the same oils, not all roses are exposed to the sun in the same way and the thickness of the rose petals tell us how scented they are, for example, thicker and fuller roses offer a more intense aroma which makes for the higher quality candles.
Rose Candle Scent According to Colour
Red rose candles tend to give off a warmer scent, sweet but intense.
White rose candles offer a traditional scent, very rich and punchy.
Orange rose candles give off a similar aroma to the white rose but with a citrus undertone, slightly fruity.
Black rose candles almost smell like elegance, it's a gripping honeyed scent.
Rose Background
The rose is, according to fossil evidence, 35 million years old. In nature, the genus Rosa has some 150 species spread throughout the Northern Hemisphere, from Alaska to Mexico and including northern Africa. Garden cultivation of roses began some 5,000 years ago, probably in China. During the Roman period, roses were grown extensively in the Middle East. They were used as confetti at celebrations, for medicinal purposes, and as a source of perfume. Roman nobility established large public rose gardens in the south of Rome. After the fall of the Roman Empire, the popularity of roses seemed to rise and fall depending on gardening trends of the time.
It wasn't until the late eighteenth century that cultivated roses were introduced into Europe from China. Most modern-day roses can be traced back to this ancestry. These introductions were repeat bloomers, making them unusual and of great interest to hybridizers, setting the stage for breeding work with native roses to select for hardiness and a long bloom season. Many of these early efforts by plant breeders are of great interest to today's gardeners.
There are so many types of roses that the choice can often be bewildering. In the UK the most commonly grown are the Hybrid Teas, Floribundas, Miniatures, and Dwarfs. There are Climbers, Ramblers, Patio Climbers, Shrub Roses, Modern Shrub Roses, Old Fashioned Shrub Roses, English Roses etc
Why Choose A Rose Candle
Roses offer soft-delicate aromas as well as punchy fresh scents, fruity smells, even spicy tones. Some varieties give off strong citrus hues, while others smell like spring. To talk about the rose scent is almost scientific, not only because there are as many aromas as there are varieties or because each variety has its own characteristics depending on where they are grown but because each person is attracted to a different type of scent and can perceive the same hues differently to another, making the list of aromas endless and profoundly personal.
Roses are ancient symbols of love and beauty, the rose was sacred to the goddesses in ancient history and now it has been made the symbol of love and passion. They also represent different things depending on the colour of their petals. The pink rose represents tolerance, respect and empathy, while the soft pink rose represents admiration and tenderness which is why they are often gifted on Mother's Day. The white rose represents innocence and purity, the yellow rose represents feelings of pride and vanishing love, the red rose is known for love and the burgundy is connected to beauty and elegance.
The Benefits Of Rose Essence
Rose is always the go-to choice when a person wants to invoke feelings of romance and love. So it's not a surprise that its scent is related to feelings of joy, happiness, hope, and love. Like lavender, rose aroma has a calming and soothing effect that can help manage stress and depression. It decreases breathing rate and blood pressure to relax your mind and body. With its antidepressant benefits, the scent of rose brings a positive boost and uplifting thoughts.
Its rich, floral smell not only keeps you energetic and optimistic, it can also help relieve headaches and, unsurprisingly, can enhance libido and spark romance.
The easy association of roses and love makes the scent a stimulus for happy thoughts and great for creating a romantic setting. The rose is known to ease feelings of emotional damage, the rich aroma of the rose candle relieves the nervous tension by exhilarating the senses. Need some pampering? Light it up in your bedroom or bathroom.
The Modern Rose Aroma
Modern-day garden roses — the known reference of what rose is in the general sense — barely exude aroma and is not the one we associate with rose candles, this is because they are a different variation to the ones used for their essential oil. A lot of the oils sold as souvenirs mimic the scent of fresh Valley roses but these rose oils are not authentic, they offer an ideal and predictive scent because it is stronger than the scent normal garden roses give off. However, naturally scented candles use the essential oil of real roses and offer those different and authentic dimensions of the rose aroma.
Benefits of Natural Rose Candles
Natural candles are made from vegetable oil as opposed to paraffin candles which are made from petroleum oil, this is why natural candles do not increase CO2 levels or require chemicals to offer a scent. They take twice the amount of time to burn and do it in a cleaner more even manner so they don't produce as much soot as a paraffin candle. Natural candles have a lower melting point and release no carcinogens into the air.
The scent of this type of candle is stronger and smoother. Because of the lower melting point of soy wax, there is a larger amount of liquid wax pool around the candle wick itself. It is from this liquid wax pool and the wick itself that the essential oils evaporate into the atmosphere.
Paraffin wax is used in more than 95% of candle making today, mainly because it is very inexpensive as it is the leftover by-product of the petroleum refining process. Scientific studies have shown that this petroleum by-product can release the same harmful carcinogens into the atmosphere as your car produces when gasoline is burned. Paraffin candles produce toxic petroleum carbon soot, which can blacken walls, furniture and ceilings, the soot goes into the air you breathe and can be hazardous to your health.
Natural beeswax and soy wax candles can help you to breathe more easily. They actually purify the air, beeswax candles naturally give off negative ions that remove dust, dirt, odours, and other pollutants from the air meaning it is cleaner to breathe and less likely to irritate the respiratory system. Beeswax candles and soy candles are made from sustainable resources and are biodegradable. They also produce fewer drips and so are generally cleaner and safer in the home; while any mishaps with a soy wax candle can quickly be removed with some warm soapy warmer.
With the benefits of non-paraffin candles in mind, you may be asking what alternatives there are. Fortunately, there are several choices on the market - soy, beeswax, and bayberry wax. Each of these is beautiful, can be dyed or scented to meet any theme or décor and are eco-friendly making them perfect for your candle needs.
Types of Rose Essence
Classic Damask Essence (ancient): represents the typical rose essence that combines the basic aspects of the different varieties that make this hybrid; the intense and sweet tone from the centifolia creating a rich aroma and exuberance of the gallica.
Modern Damask Essence: this essence is very similar to its classic version but offers a more sophisticated and moist tone.
Tea Rose Essence: the tea rose is a hybrid that made way for all the modern garden varieties and its aroma is known to have a very refined style to it.
Frutal Essence: this essence combines characteristics of the tea rose and the classic Damascus with frutal tones such as peach, apricot and apple. The classic Damascus offers frutal tones more in the line of raspberry and strawberry. Spicy Essence: it features a strong profile of different spices, including cloves.
When To Use A Rose Candle
If you know someone who is grieving due to the loss of a loved one, giving them rose candles or rose essential oils is a nice gesture to help them cope and ease the pain of the loss. It's not a magical fragrance that will make that person happy again, but it helps in keeping them optimistic and uplift their spirituality in difficult times.
A rose candle can also make a sweet present for a partner, subtle and elegant; instead of wooing your partner with roses, give them something with a more concentrated aroma like a candle.
They also make an amazing housewarming gift or even when going to a dinner party.

Discover
Pairfum

!
Natural Couture Perfume In Your Home & On Your Skin.
Natural Rose Candles by PAIRFUM
Natural Flower & Soy Wax Candles by

Pairfum
Taking Care of your Candle
Candles are absolutely safe to enjoy, you can fill your entire house if that's your style but always use them with care and attention so that they do not lead to an accidental fire or injury. Always try and be careful and attentive when burning candles so it's safe and therapeutic. Remember to trim candle wicks to ¼ inch each time before burning, for the initial lighting allow the candle to create a full and even burn pool across the entire candle. As with all candles, the first burn is the most important. If the wax is not allowed to liquefy or to melt from edge to edge of the jar or tumbler, it will create a "memory ring," especially if this is the first time the candle is lit. Once a candle has this "memory ring," it will continue to tunnel and to burn that way for the life of the candle.
Never leave a burning candle unattended or burn a candle on or near anything that can catch fire. Always keep them out of the reach of small children and away from pets. Keep the wax pool free of wick trimmings, matches and debris at all times. Avoid moving a candle when the wax is liquid, and make sure a candle is completely extinguished and the wick ember is no longer glowing before leaving the room. If you store your candle, be sure it is in a cool, dry place away from direct sunlight or intense light. Keeping it in a dark place like a cupboard or box will protect it from fading and discoloration.
Natural Rose Candles
In honour of this wonderful plant and its beautifully versatile fragrance, PAIRFUM has produced a collection of natural rose candles with three very distinct perfume accords that demonstrate the different facets of Lavender.
All are made from 100% natural wax and contain essential oils to recreate a pure pure and authentic aroma in your home.
Pink Rose & Sensuous Musk
- by
Pairfum

-

A vibrant, floral fragrance where the top notes of Sparkling Lemon and Lime are enhanced by the fruity nuances of Peach. The feminine, floral heart is a radiant blend of Pink Rose, Magnolia and Frangipani. The dark seductive base of Sensuous Musk, Amber and Precious Woods brings this fragrance to life.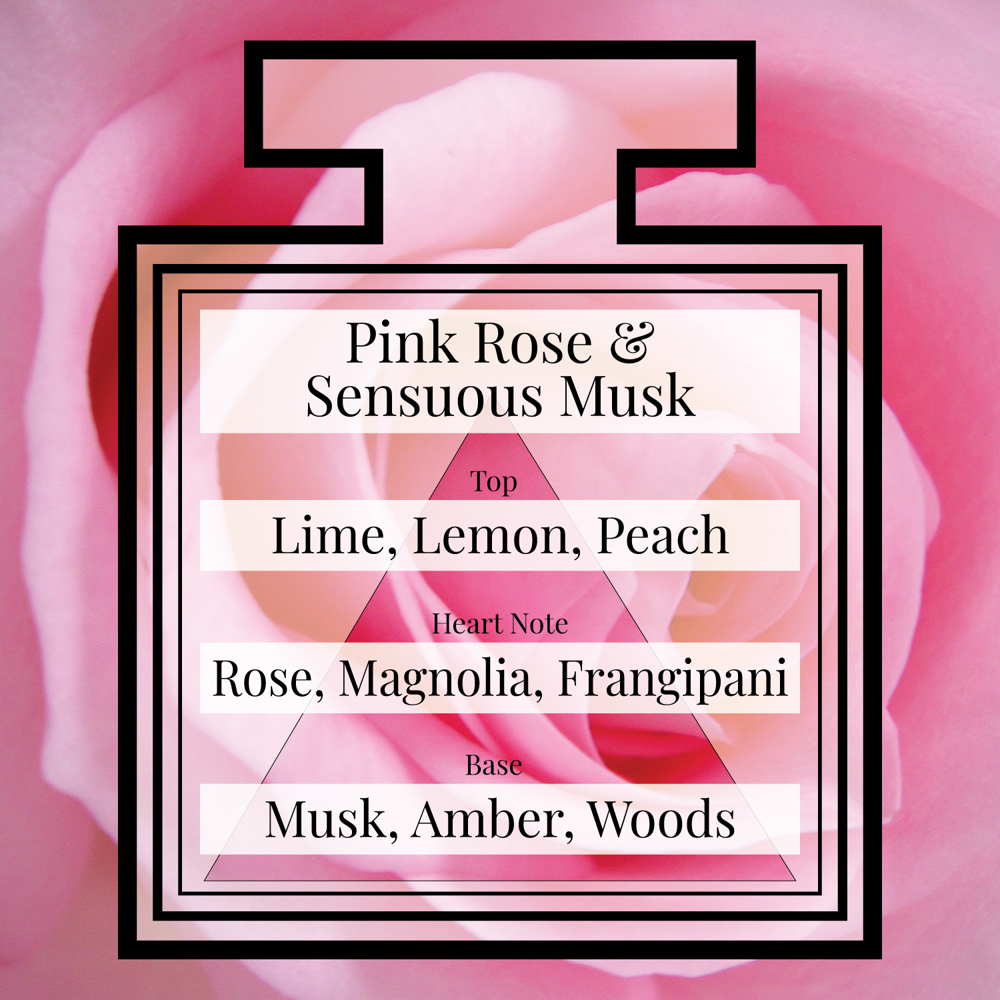 Blush Rose & Amber
- by
Pairfum

-

A top note of precious Iris leads into a sensuous, intensely floral feminine floral bouquet of Regal Rose in harmony with jasmine. Lily of the Valley and Freesia, supported by a deep and warm fond of Crystal Amber, Musk and Rich Woods

Enjoy
Pairfum
Natural Couture Perfume in Natural Wax Candles