Multiplex:
Tom Dixon & Wallpaper present Multiplex, a multi-sensorial and fully immersive vision for the department store of the future. This alternative retail concept store is housed at London's Old Selfridges Hotel.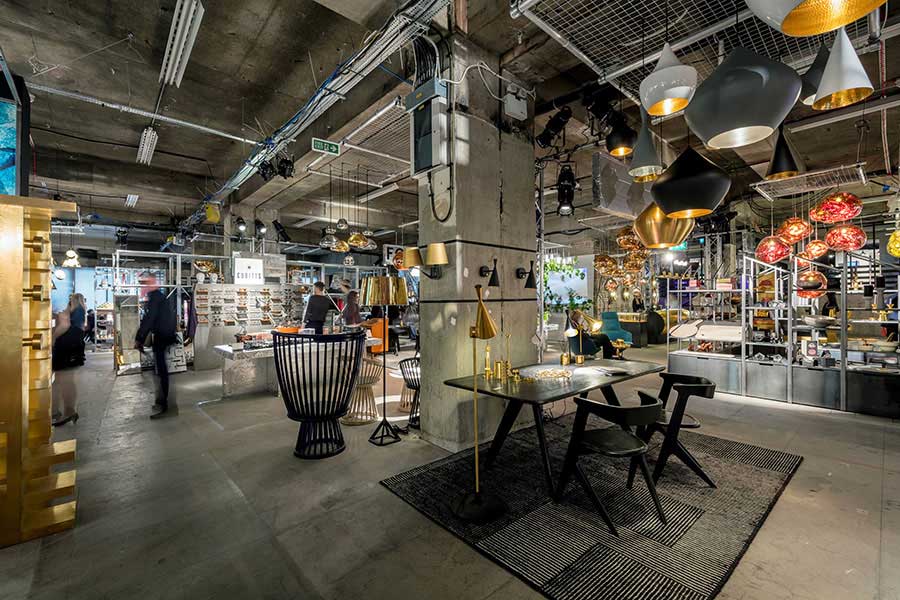 Dixon believes retailers, and he is particularly thinking of interiors, are being squeezed by soaring rents / rates / wages / etc on the one hand and the growth of online shopping on the other hand. According to him, retailers need to radically rethink their store concepts and offers his Multiplex pop-up store as a model for inspiration.
The store is visually inspired by a 1970s adventure playground and the international space station. It features all of the typically expected departments: interior, design, fashion, beauty, home fragrance and technology.
It also includes a food hall that is curated by Arabeschi di Latte (Milan) and offers "Futurist" black food. The result is part immersive art installation, part multi-sensory experience and certainly an ambitious project that is beautifully translated into a tangible future.
Here are a few of the departments you can enjoy at Multiplex:
A selection of "Tom Dixon" designed products: lighting, furniture and accessories.
"Wallpaper" present an 8,000-year-old oak bar, offering whisky tastings to the public.
"Reviv" offer intravenous vitamin injections in store and the Danish company "Sort of Coal" propose white-charcoal shampoos.
"Boskke" sell plant pots that are upside-down.
"Cubitts" craft custom spectacles.
"Haeckles" presents its Margate seaside-foraged beauty products and an installation that breathes the air of 'Margate' into the room.
There is an Indian made-to-measure tailer where you can watch while your clothes are being made in Mumbai.
"Deliveroo" offers an order-in service for food: a take-in restaurant. Instead of choosing from a counter or stalls, your food is delivered to your table from local restaurants via Deliveroo.
"Teenage Engineering" in combination with the new kickstarter platform "Mindblower" can be found in the technology section together with "Apple".
Alongside this, Fashion shows and live music are planned.
[sliderpro id="68″]
Below is a link to the website for Multiplex
click to see the "Multiplex" website
The pop-up department store will open until 15.10.2015 and it is worth exploring !
The Future Of Retailing For Perfume, Home Fragrance and Skin Care ?
Interestingly, from our perspective, Tom Dixon believes 'multi-sensorial' and 'immersive' is one vision for the future department store !
Multiplex certainly offers inspiration how one could retail and shop for perfume, home fragrance and skin care products in future.
How do you see the future of retail in the high street ?